An Ultimate Guide to BMS Integration Protocols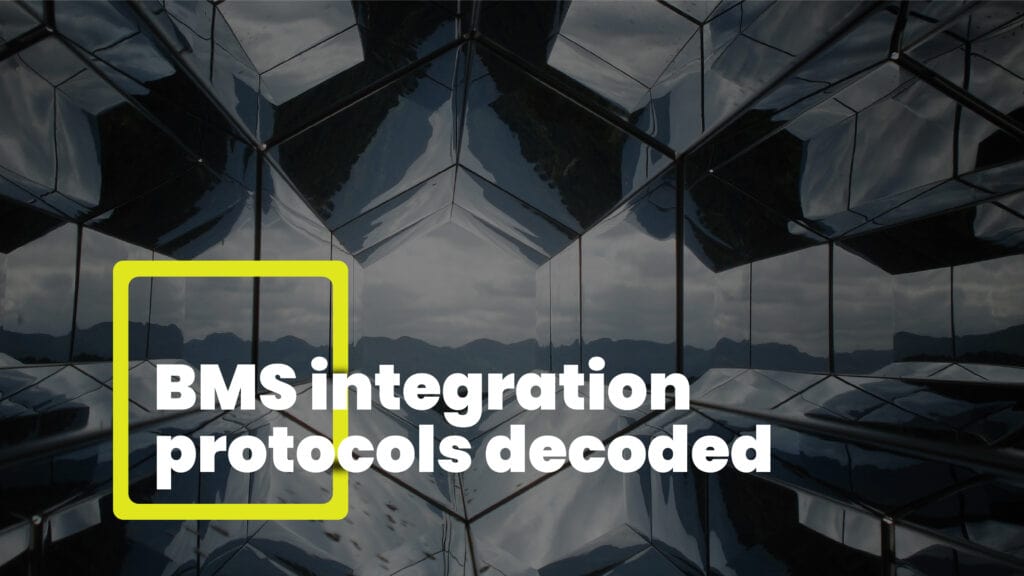 Nowadays, any modern building built with Building Management System (BMS) has increased productivity, higher equipment lifetime and better performance. BMS uses technical protocols to communicates information with components such as controllers, sensors, actuators within a system. Communication protocols let device manufacturers to share data in a way that components can easily understand and take intelligent actions. This article explains about major BMS integration protocols that enables smart operation and efficient maintenance of the building.
Want to learn more about BMS and lighting controls click here
Some of the major classifications of building management system protocols include:
Open. The protocol is readily available to everyone and are suitable for a wide range of BMS applications. The protocol allows easy integration of devices from multiple manufacturers into building management systems.
Proprietary. The data structure is restricted to the manufacture of the device. They are only compatible with the vendor's equipment and restrict the desired functionality.
Open systems are more common because they provide end users with more options. BACnet, Modbus, LONWORKS, KNX are the most widely used protocols in the building automation industry.
BACnet (Building Automation and Control Network)
Developed by ASHRAE, BACnet is the industry's most widely used network protocol to control the data exchange between different devices and components. BACnet meets the needs of users, integrators, and equipment vendors thanks to its open architecture and ability to control any building automation process. The protocol uses 'Objects,' 'Properties' and 'Services' to serve the purpose of interoperability:
Objects: Each object is characterized by a number of properties that monitor and control its behavior.
Properties: The properties define a BACNet object. An Object can have multiple properties; each property has an identifier and value.
Services: This is when one BACnet device requests information or gives instructions to other BACNet devices to carry out actions.
BACnet support seven LAN type network technologies like Ethernet, IP, Lon Talk, ZigBee, ARCnet, MS/TP to exchange information between designated destinations.
Modbus
Modbus is a network protocol created by Medicon for industrial automation systems, specifically connecting electronic equipment. This standard open communication protocol is extensively used to establish client-server communication between intelligent devices as it is an open, reliable and relatively easy to implement.
The client sends a request to perform actions say for example to transfer data, execute a command
Upon receiving the request from the client side, the server runs the command or recovers the required data from its memory.
The server then responds to the client by acknowledging that the command is complete or providing the requested data.
The Modbus protocol can be implemented:
– on an asynchronous serial interface RS-232, RS-422 or RS-485,
– TCP / IP over Ethernet
– via Modbus Plus, network token passing to 1 Mb/s, can carry Modbus frames and other specific network services.
KNX
KNX is an approved European (EN), and International (ISO) Standard a communication protocol developed to interact and exchange information. The KNX systems enable control lighting blinds & shutters, Heating, Ventilation, and Air Control (HVAC), Audio/Video Control (AV), operation and visualization, security, and remote access. KNX offers energy-efficient solutions for more functionality and convenience, thereby reducing energy costs.
There are two types of devices on a KNX system -the sensor and the actuator. Sensors are devices that respond to something and create a message accordingly. Actuators, on the other hand, are the devices that control the building management equipment.
KNX System consist of:
a distributed bus system that allows devices to exchange information directly
bus voltage: 24 VDC (+6/-4 V)
CSMA/CA protocol protects against data loss resulting from telegram collisions.
up to 12,000 bus nodes can be connected
data transmission rate of 9.6 kBit/s, termination resistors not required
LonWorks
LonWorks is another communication network protocol created by Echelon Corporation. This is specifically designed for building automation applications across networking devices through power lines, fiber optics, and other media. It can work through many physical communication layers – commonly a single pair of cables, but also through Ethernet, fiber, or even powerlines. LonWorks simply addresses the interoperability goals of security, lighting systems, HVAC, machine control and metering.
LonWorks is an:
open system for building automation
flexible topology and cross-system functions
standardized communication
simplified startup using LNS-based network management tools
use a variety of transmission media, e.g., twisted pair cables, power supply system, fiber optic or IP.
Conclusion
Understanding the role of protocols in building management enables better control of the various equipment and systems in a facility. Enhanced energy efficiency, lower operating costs, advanced analytics, and increased occupant comfort are some of the many benefits you'll see when you consider to BMS protocols.
To know how we meet energy efficiency using BMS protocols, feel free to contact us!