Luminous Luxury: Anand Jewels' Journey to Retail Excellence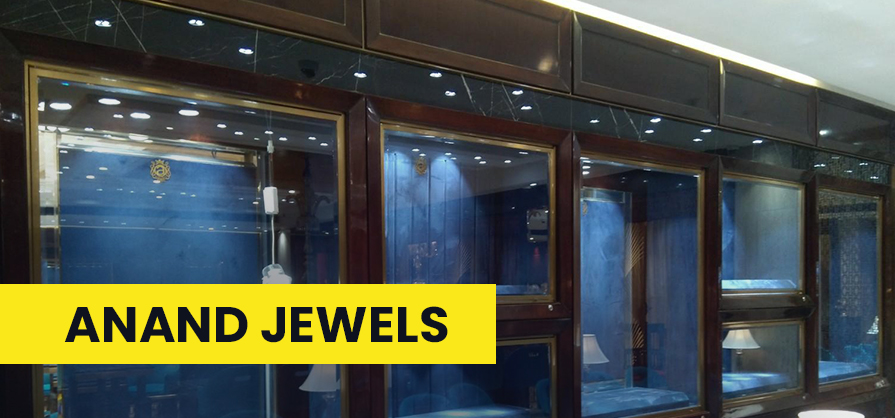 Background
Anand Jewels Rajpur, a prestigious jewelry retail store in Raipur, renowned for its exquisite craftsmanship and personalized service, sought to elevate its ambiance and product display. Recognizing the need for an advanced lighting solution to enhance their new store's ambiance and product presentation, Anand Jewels partnered with Plus Light Tech (PLT) and Lumos Controls to install advanced and simplest lighting controls, innovative modules, intuitive switches, and edge gateways.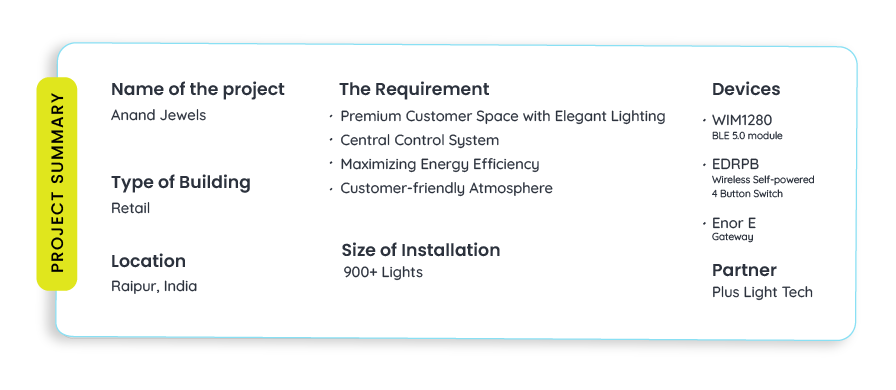 Objectives
When planning their new retail store in a three-story building in Raipur, Anand Jewels had a clear vision in mind: creating a captivating ambiance that would not only draw clients' attention but also make their jewelry displays shine. Their core objectives extended beyond beautifully illuminating each piece of jewelry. They aimed to achieve the following:
Providing premium customer space with elegant lighting and ambiance.
Implementing an easy central control system for the lights across all three storeys.
Maximizing energy efficiency and minimizing energy costs, all while creating an inviting atmosphere that made customers feel comfortable and encouraged them to spend time exploring the store.
Challenges
Designing the right lighting and dealing with a three-story layout were two major challenges. We had to implement a lighting plan that made the jewelry look fantastic without bothering customers. It's not easy! Also, the store had three floors, each with its own special areas for premium customers and different jewelry displays, each with its unique lighting requirements. Creating uniform and elegant lighting throughout all three floors demanded a collaborative team effort and a keen eye for detail.
Solutions
In collaboration with Plus Light Tech (PLT), we successfully executed this project. Plus Light Tech (PLT) provided their advanced lighting controls as part of their comprehensive solution. Additionally, we integrated the following components to enhance the project's functionality: 
WIM1280 (BLE 5.0 Module): We incorporated the compact-sized BLE 5.0 module, known for its ultra-low power connectivity and flexibility. This module enabled intelligent wireless controls, allowing us to design a lighting system that perfectly suits the project's needs.
Enor E (BLE-WiFi Gateway with Ethernet & RTC): Enor E played a pivotal role in connecting our Lumos Controls to the cloud effortlessly. Whether through WiFi or Ethernet, it ensured uninterrupted connectivity. Plus, with Over-the-Air (OTA) update support and a built-in RTC, it kept our system up and running without a hitch.
EDRPB (Wireless Self-powered 4 Button Switch): Our project benefited from the EDRPB switch—a self-powered, universal energy-harvesting wireless switch. This switch was a game-changer, allowing for quick configuration, commissioning, and control using any mobile device. It seamlessly connected to the Lumos Controls cloud for valuable data analytics.
In addition to the hardware components, we integrated the Lumos Controls Mobile App, available for both Android and iOS into our project. This dedicated application streamlined configuration and central control, making it user-friendly and efficient.
Result
Today, the project stands as a testament to success. The store exudes elegance, efficiently managed through centralized controls, allowing for remote control even from outside the office premises. It maximizes energy efficiency while providing a comfortable atmosphere. Anand Jewels is not only satisfied but also delighted with the seamless operation of their enhanced store, which includes an elegant, luxurious premium space for their discerning customers.
About Plus Light Tech
Plus Light Tech (PLT) was Founded in 2005. Their comprehension of lighting has always begun from the point of its association with the environment. At Plus, they develop holistic retail lighting solutions that meet the highest international standards in terms of technology as well as aesthetics.
About Lumos Controls
Lumos Controls is the world's simplest smart lighting control that allows you to create exceptional lighting experiences for smart enterprises. The ecosystem features controllers, sensors, switches, gateways, mobile and web apps to set up basic to advanced smart controls. Lumos Controls offers you the freedom to decide what to achieve and how to grow and step into a sustainable future.
Connect with our Lighting Control Experts Now!