DALI Gateway: Relevance and Working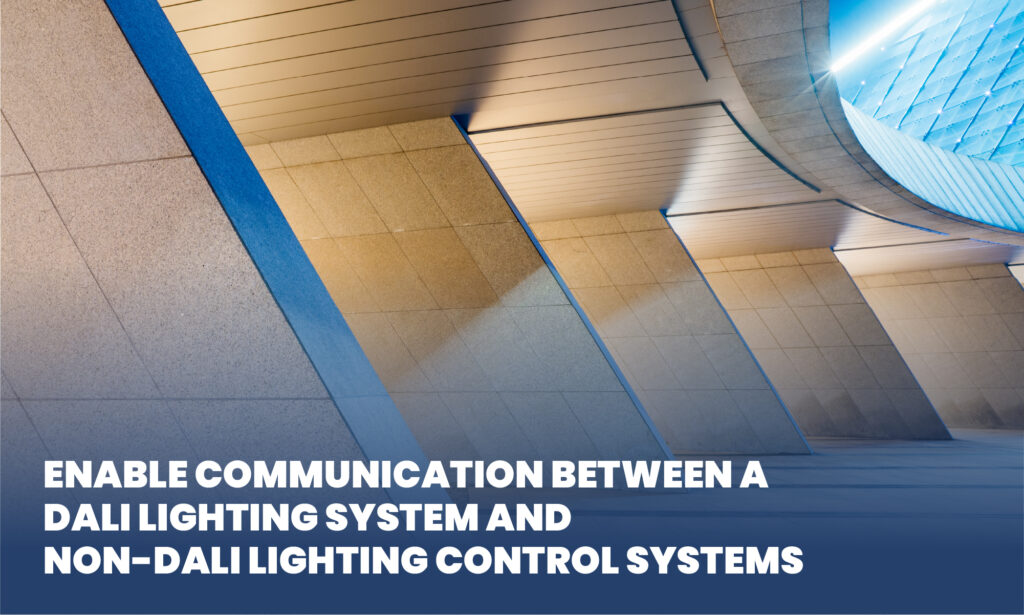 Imagine adjusting the lighting in your building with just a few clicks!
Digital Addressable Lighting Interface (DALI) protocol helps you do the same by letting you control the lighting levels, colors, and other settings in real-time.
Suppose you want to enable communication between a DALI lighting system and non-DALI lighting control systems, such as 0-10V controllers, sensors, or switches. In that case, you'll need a DALI gateway.
Don't worry if you need clarification on what that is; in this blog post, we'll explore the world of DALI gateways and why they're so important in building automation and lighting control systems.
So, what exactly is a DALI gateway?
A DALI gateway is a cost-effective solution to integrate non-DALI lighting fixtures, switches, and sensors into a modern DALI lighting control system. By utilizing the gateway, these devices can communicate with the DALI system, enabling centralized control and management of the entire lighting system.
Why DALI gateway?
DALI gateway is an essential component of lighting control systems, enabling users to easily manage and control their lighting devices from a single point. It offers a range of benefits.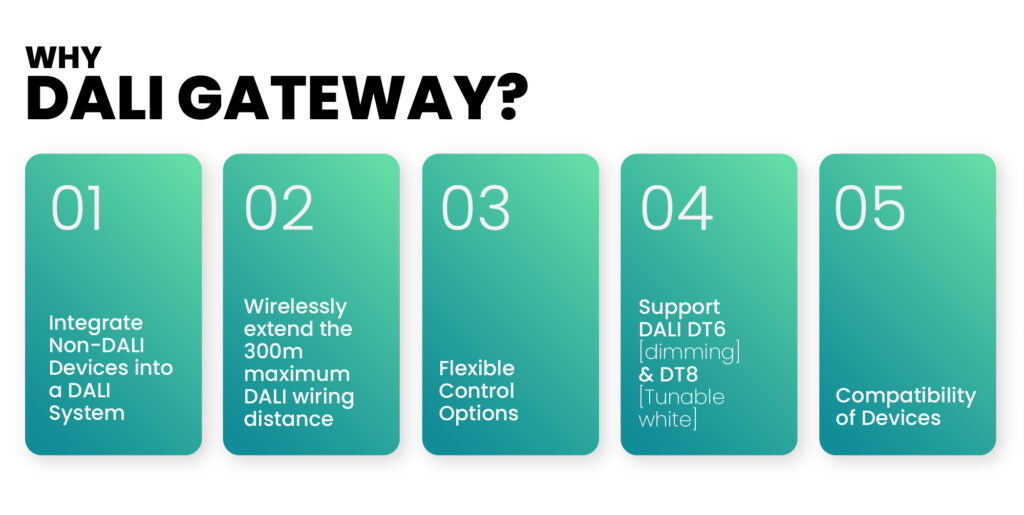 A DALI gateway Enables the Integration of Non-DALI Devices into a DALI System without Affecting its Performance:
Non-DALI (switches, sensors, etc.) can be given unique DALI addresses to function as DALI-2 devices, enabling advanced features.
Traditional luminaires without built-in DALI capabilities can be controlled as if they were DALI devices.
The DALI gateway works invisibly with the DALI system, without requiring a DALI address or affecting its performance.
Wirelessly extend the 300m maximum DALI wiring distance:
One of the main limitations of DALI systems is the maximum wiring distance of 300 meters. However, the DALI gateway can wirelessly extend this distance, making it possible to control devices that are further away from the main controller. This can be particularly useful in large buildings where wiring may not be feasible or cost-effective.
Support DALI DT6 (dimming) & DT8 (Tuneable white):
The DALI gateway supports both DALI DT6 (dimming) and DT8 (Tuneable white) protocols. This means that it can be used to control a wide range of devices, including dimmable luminaires and color-changing fixtures. The DALI gateway also enables the use of DALI sensors and switches, which can be used to further automate and optimize the lighting system.
Flexible Control Options:
The Lumos Controls gateway offers the flexibility to use the network as both a DALI lighting control system and a normal lighting control system. Users can program one set of functionalities for DALI use and another for the Lumos Controls app. They can control the lighting system from either DALI or Lumos Controls, or mix and match the two according to their requirements. Priorities for DALI commands sent to the Lumos Controls network can be defined in the Lumos Controls app.
Multi-channel Lumos Controls units are configured as single-channel devices in the DALI configuration software, meaning that users can only individually dim each channel from the Lumos Controls app. This feature offers users greater flexibility and convenience in controlling their lighting system.
Compatibility of Devices:
The Lumos Controls gateway is designed to work with a wide range of devices, providing users with a lot of flexibility when it comes to choosing the components of their lighting system. The Lumos Controls network can be used in conjunction with a DALI network, allowing users to mix and match devices from both ecosystems to create a lighting system that meets their specific needs.
Devices that are Lumos Controls ready or enabled can be used as part of a Lumos Controls network. These devices are part of the Lumos Controls ecosystem and are designed to work seamlessly with other Lumos Controls components. DALI devices from the DALI ecosystem can also be used as part of a Lumos Controls network, giving users access to a wide range of devices that are designed to work with the DALI standard.
In addition to Lumos Controls and DALI devices, the Lumos Controls gateway can also work with EnOcean devices, 1-10V and 0-10V devices, pulse width modulation (PWM) controllable LED-strips, and phase-cut dimmable light sources. This allows users to choose from a wide range of devices that meet their specific needs, whether they require wireless control, analog control, or digital control.
How does DALI gateway work with Lumos Controls ecosystem?
DALI gateway is a device that acts as an access enabler into the Lumos system, providing a gateway for DALI devices to access the Lumos Controls ecosystem. This gateway enables non-DALI devices like 0-10 V controllers, sensors, switches, and other devices to be presented as DALI devices to the master controller. For example, a master controller like Tridonic can access the non-DALI devices in the Lumos Controls ecosystem through this gateway.
Master controllers like KNX or Tridonic have ready-made Building Management System (BMS) connectivity, making it easier to integrate the DALI gateway into existing systems. This means that with the help of the DALI gateway, a master controller can control all devices in the Lumos Controls ecosystem, including non-DALI devices.
One of the key benefits of using a DALI gateway is that it allows for the extension of DALI networks. Normally, a DALI driver can access only a single luminaire, but with a DALI gateway, it is possible to access up to 64 devices. Additionally, the DALI gateway can extend the DALI network wirelessly, which means that devices can be added to the network without the need for additional wiring.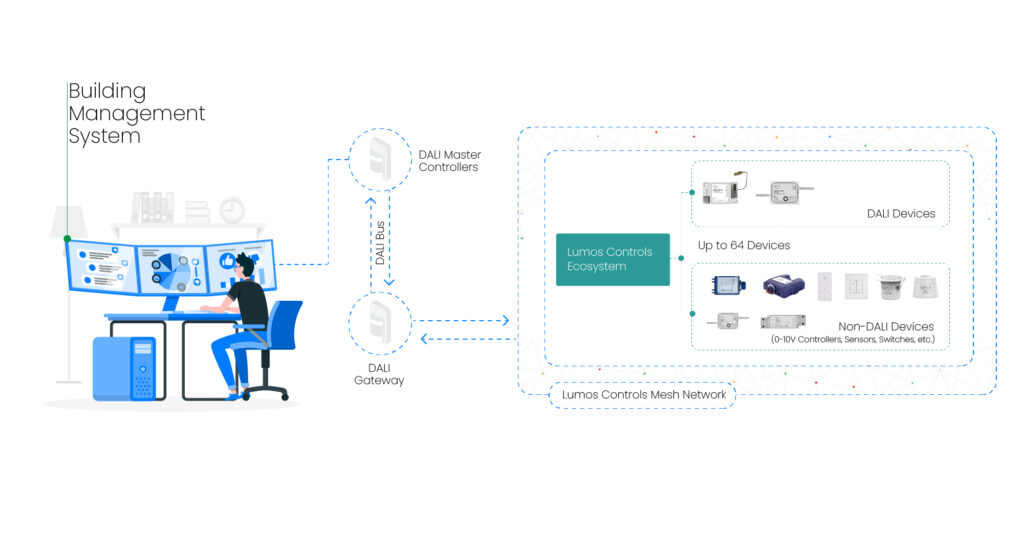 Conclusion
Overall, the Lumos Controls DALI gateway provides a flexible and scalable solution for lighting control systems. Its ability to seamlessly integrate non-DALI devices, extend the maximum wiring distance, and support a wide range of DALI protocols makes it an ideal choice for both new installations and retrofit projects. By using a Lumos Controls DALI gateway, building owners and managers can create a more efficient, cost-effective, and sustainable lighting system that can be easily customized to meet their specific needs.
Looking to explore more about Lumos Controls DALI gateway? Contact our team