6 reason why you should invest on wireless lighting controls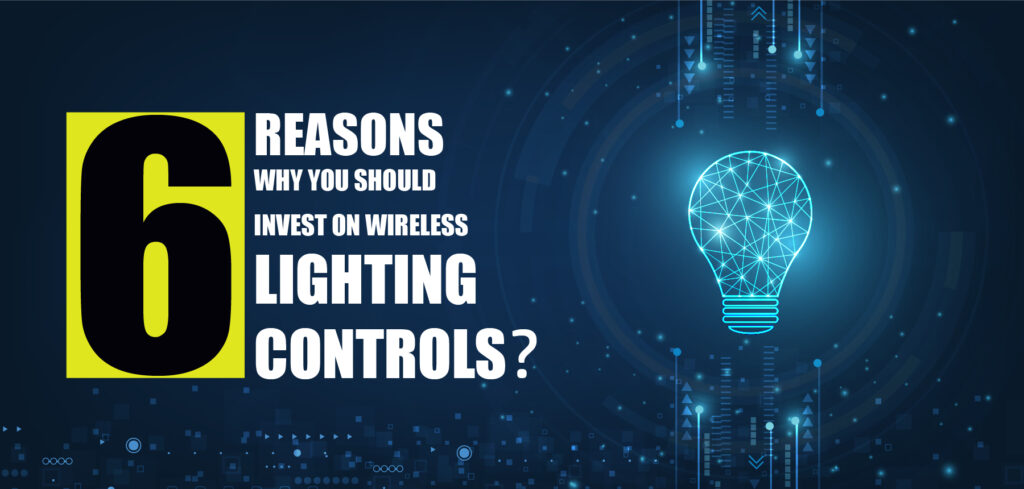 Lighting controls regulate the quality and characteristics of light, making spaces brighten up the way an occupant wants it. The technological advancements have paved its way to wireless lighting controls, which can do quite a lot more than ON/OFF luminaires and adjusting the light level.
The wireless lighting controls, also known as intelligent lighting controls, significantly reduce energy wastage and increase device efficiency. It is an excellent choice for a wide range of building applications like offices, hospitals, schools, hotels, and warehouses, be it a renovation or new construction. Cost-effective and flexible, these lighting controls can make your interiors beautiful and perfect for the occasion and space through a wide range of features like scene-setting, scheduling, occupancy and vacancy sensing, task tuning, and more.

Ever wondered why wireless lighting control is a perfect choice for your building?
Let us delve into the details,
What are Wireless Lighting Controls?

A wireless lighting control is a combination of fixture controllers, input devices viz, sensors and switches along with mobile applications and network monitoring dashboard to control and monitor devices. It also includes gateways to function remotely and track crucial performance metrics, including energy consumption.
Why Wireless Lighting Controls?

When we talk about wireless lighting control, the first few advantages that come to mind are flexibility, scalability and lower installation cost. With few wires installed and potentially fewer conduits required, wireless lighting controls benefit from material and labor-saving.

Wireless lighting control doesn't require any additional cabling and can easily alter components if required with ease. It, therefore, makes the installation and maintenance process easier with cost significantly less than wired lighting.
The wireless lighting control industry will expand even further. As per a study conducted on smart lighting, the global smart lighting controls market is expected to grow at a CAGR of 21 percent from 2018 to 2024.
Flexibility
The first and foremost advantage of any wireless control is flexibility. A wireless lighting control device is applicable in any given place without the limitation imposed by wiring. There is no need for complicated electrical planning as it provides more flexibility during lighting installation. Also, the device can be easily moved or shifted with ease without any forms of issue or distortion.
Scalability
A wireless lighting control system is scalable as per building requirements to meet the growing needs. From small office space to large hospitals, wireless lighting systems can be installed with ease with no additional expenses or rewiring required, along with no complicated commissioning (pairing authorization) process.

Reliability
The network management used in lighting control devices are highly interoperable, making data transmission and device management smooth and secured, thereby creating space/infrastructure future-proof.

Lower Installation Cost
Installation cost of wireless controls is very less as it doesn't require any dedicated forms of controlled wiring, resulting in fewer labor hours and less raw material. With no damage done on walls or ceiling, the wireless control adjusts significantly with the installation, especially with buildings/applications requiring a sophisticated lighting system.

Easy Set Up
Lighting Control systems are user-friendly with intuitive switches and remote controls, and web-based applications that most people are often used to similar applications on their smartphone.

Wireless lighting controls are easy to set up and install without any expert training. They can be integrated into an existing lighting system with ease to save a considerable amount of energy. Also, it provides a user-friendly mobile app and flexible web application that can control the entire lighting system with ease.

Energy Efficient
Wireless lighting controls help save energy and money by ensuring the right light at the right time and in the right space rather than having flaming lights in unoccupied rooms all day.
"Lighting accounts for more than half of the total electricity bill, and with the help of a lighting control system, you can save an average of 30% from going to waste."
Lighting Control Strategies
Now, we know the advantages of using wireless lighting control. Let's look at the current control strategies that a proper wireless lighting control utilizes to satisfy the energy codes and standards, thereby reducing energy consumption.
Task Tuning
Task Tuning, also called Institutional Tuning or High-End Trim, involves adjusting light intensity levels based on the lighting requirement in a space.
Daylight Harvesting
Daylight harvesting is a lighting control strategy that uses lighting systems in the form of controllers and sensors to dim or adjust the brightness of light automatically in response to the amount of natural light available in a space.
Occupancy Sensing
Occupancy sensing strategy makes use of occupancy sensors to automatically turn ON lights when people enter a space and turn them OFF (or Dim) shortly after people leave.
Vacancy Sensing
This strategy requires the occupant to turn on the lights manually based on their need. The vacancy sensor manually turns off the light, provided space is detected vacant, with no sign of movements.
Scheduling
As per this lighting strategy, a lighting scheduling system automates luminaire functions at pre-set time-slots of the day, week, or month to automatically dim or turn ON/OFF lights.
Dimming Control
This strategy uses dimmers to maximize energy saving by varying the brightness of light as per users' choice.
To know more about Lighting control strategies, check out this latest blog
Application of wireless lighting controls in different Industrial sectors
Every industry has its requirement and needs when it comes to lighting. Hence it isn't easy to come up with a general recommendation for lighting control. Many industries use lighting controls for optimized lighting, to provide recommended lighting and save much-needed energy.
The most notable ones are as follows-
Hospitals and healthcare facilities have a complex lighting system. Hospital infrastructure includes patient rooms, nurse stations, labs, etc., which require specific lighting solutions.
Offices have areas such as reception, waiting room, open office, cabins, conference room, etc., where wireless lighting controls are applicable. It helps in optimizing the office building infrastructure.
Hotels contain areas such as guest rooms, reception, dining, and lobby, which require complex lighting. Lighting control plays a vital role in spotlighting a design and elevating the guest experience in the hospitality sector.
Wireless lighting control can be easily incorporated in classrooms, libraries, or networked across the entire school building. It helps provide the required lighting as well as save an ample amount of energy.
In a Nutshell
Implementing wireless lighting controls and adopting efficient strategies help users meet the ever-growing demands and challenges of the smart world. It requires a robust hardware system and a user-friendly software platform to meet all these requirements.

A "true" wireless lighting control system offers flexibility, reliability, energy efficiency, and cost-effectiveness. Considering all these benefits, a wide range of industrial applications invest in wireless lighting controls. This transition helps them comply with energy codes, reduce energy consumption, save on utility bills, increase occupant satisfaction and well-being.

Your investments should be for the future. So, before investing in smart lighting, or anything of that matter, it is always better to learn more about it.

To think smart and act fast, feel free to contact us.