An Ultimate List of Standards and Certifications for Lighting Control products in the USA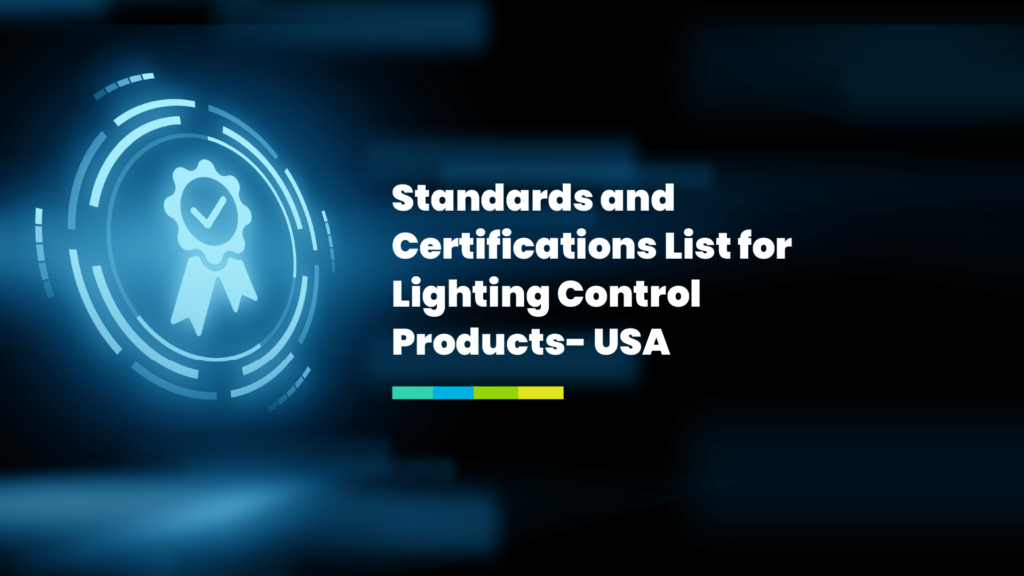 Though 'thinking different' lets you choose your own way, sometimes it's best to follow a standard to make your business more efficient. The lighting industry is no exception. Lighting certifications or standards are the validation given by an organization or government. Meeting certifications will help manufacturers or contractors to reap more benefits and instill a sense of trust among customers. While some certifications are related to safety, others measure energy efficiency or conformity with government regulations. Knowing the types of lighting certifications will help you take the best buying decisions so you can have confidence in your business.
In this blog, we will provide a comprehensive list of the most relevant standards and certifications for lighting control products in the USA, along with an explanation of each requirement.

UL Certification
UL (Underwriter Laboratories) is a global safety certification company approved for most products' safety testing. It is one of the largest and best-known safety certification organizations in the world.
UL certification accounts for product safety, environmental sustainability, life, and health. Appliances, electronics and electrical components, motors, batteries, smoke alarms, and automotive parts can be UL listed.
In addition to safety, UL certification is often required by building codes, insurance companies, and other regulatory bodies. This means that lighting control products that are not UL Listed may not be allowed to be installed in certain settings or may not be eligible for insurance coverage.
Some of the different types of UL approvals include:
UL Listed – indicates that the product has been tested and meets the safety standards for a specific application or purpose
UL Recognized – given to parts or components of a larger product that meet specific safety standards
UL Classified – given to products that have been tested for specific hazards, such as fire resistance.
FCC Certification
The Federal Communication Commission (FCC), an independent agency of the United States government, regulates the radiation standards of electronic devices. The certification process involves extensive testing of the device's electromagnetic emissions and susceptibility to interference.
FCC regulations cover consumer technology, lighting, appliances, industrial devices, and wireless devices with Bluetooth or Wi-Fi. The aim is to ensure that the device is not harmful to human health and does not cause interference with other electronic equipment.
Lightning products that need to be tested by FCC certification includes LED drivers/drivers ballast, LED light product, light modulator, ESL, stage light, LED screen, light modulate equipment used in stage, tubular fluorescent lamps, ballasts for electric-discharge lamp, A.C. supplied electronic ballasts for tubular fluorescent lamps, recessed luminaire, portable luminaire, fixed luminaire.
All these products imported and sold in the United States shall comply with FCC rules so that they do not cause harmful interference to radiocommunication services.
Energy star
The Energy Star certification is a program established by the United States Environmental Protection Agency (EPA) to promote energy efficiency and reduce greenhouse gas emissions.
According to the EPA, Energy Star certified products and services have helped save more than $450 billion on utility bills and reduce greenhouse gas emissions by more than 2.7 billion metric tons since 1992.
The program covers a wide range of products, including lighting control devices, and is designed to help consumers identify energy-efficient products that meet certain performance and efficiency criteria.
DLC Approved
The DLC Listed program is widely recognized by utilities and government agencies across the United States and Canada, making it an important certification for manufacturers of lighting control products. The Design Light Consortium or "DLC approved" label on a lighting product is an endorsement of its high level of quality, performance, and energy efficiency.
One of the key benefits of the DLC Listed program is that it provides a way for manufacturers to demonstrate the energy efficiency of their products and differentiate their products from competing products. It also helps end-users, such as building owners and facility managers, to identify high-quality, energy-efficient products that can help reduce energy costs and improve overall lighting performance.
DLC work with several other agencies/ utility providers to offer rebates for installing/upgrading to more efficient LED lights. It is used for lighting products like LED luminaires, retrofit Kits, and replacement lamps.
To know how DLC certification impacts the quality of the products, click here.
ETL certification
ETL certification is a safety certification provided by Intertek, a global safety and quality assurance company.
For lighting products, ETL certification ensures that the product has been evaluated for safety hazards related to electrical and fire safety, and that it meets specific safety requirements established by safety standards such as the National Electrical Code (NEC).
ETL certification is recognized by regulatory agencies, governments, and industry organizations worldwide, and it can help manufacturers demonstrate their commitment to quality and safety. Products that have ETL certification typically have a higher level of consumer confidence and are more likely to be accepted in the market.
Where can I find the product certifications listed?
Product pages
Installation manuals and spec sheets
Product packaging
Conclusion
Testing and certification of lighting products is vital in order to access the market around the world. They not only demonstrate a manufacturer's commitment to compliance with industry standards but also provide assurance to customers that the products they are purchasing meet certain quality and safety criteria. Whether you are involved in the manufacturing, specification, or installation of lighting, choosing certified products will ensure that your lighting projects are successful but also safe and energy-efficient.
If you want to know about how we achieved certifications for our products, feel free to contact us.