ASHRAE/IES 90.1-2022: Stay up to date with the latest changes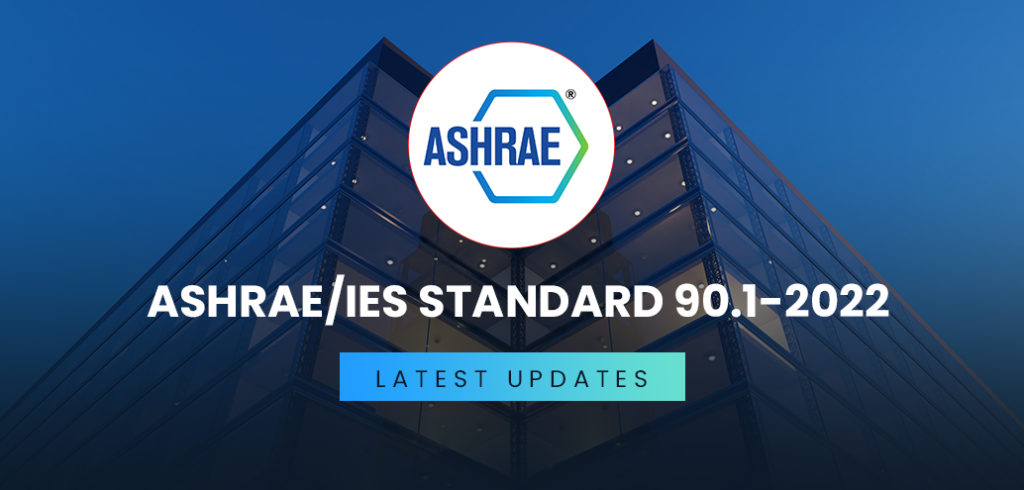 Have you heard about the new ASHRAE/IES 90.1-2022 standard? It sets energy efficiency requirements for non-residential buildings except low-rise residential buildings.
What's interesting is that this edition includes some major additions that have never appeared before in a U.S. model energy standard or code.
For example, there's an expansion of the scope for building sites, and a requirement for a minimum amount of on-site renewable energy. Plus, there are some new provisions for lighting, such as adjusting power allowances and additional lighting control requirements.
These changes are worth taking a closer look at!
Lighting power
Building sites
Lighting alterations
Lighting controls
Daylight-response controls
Lighting power
The 2022 version of the ASHRAE 90.1 standard has brought about some changes to its power allowances:
There have been significant reductions in exterior lighting power allowances as compared to previous versions.
When it comes to interior lighting power, allowances have generally either been reduced or remained the same.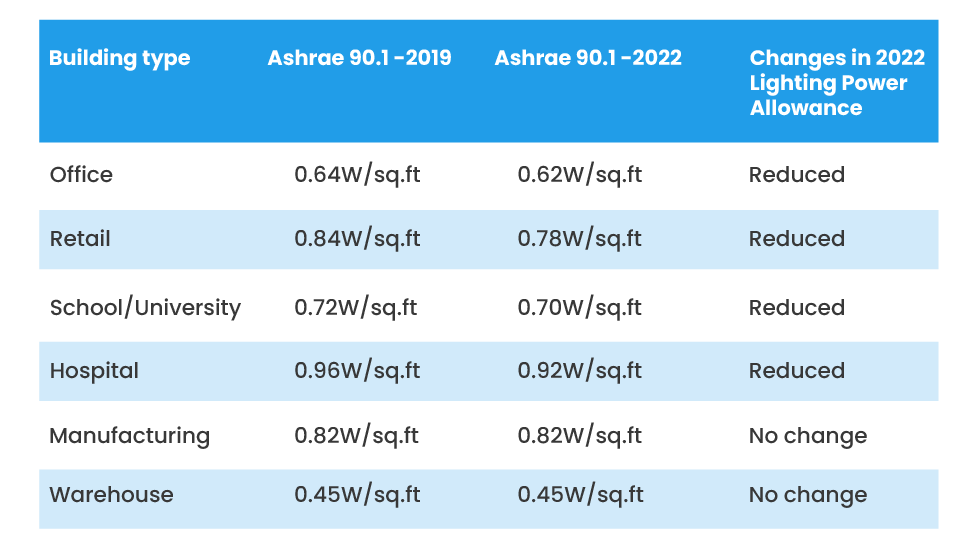 However, reductions in power allowances have not been as significant as in past versions, indicating that there is a growing acceptance of LED lighting technology by the standard.
These changes reflect the continued efforts to improve energy efficiency in buildings and to promote the use of sustainable technology.
Building sites
The latest version of ASHRAE/IES 90.1-2022 is more inclusive.
It now covers not just the building, but also the surrounding site. This means that exterior and parking lot lighting, previously not included, are now part of the standard.
The onsite renewable energy can be counted as credits toward energy usage even if it is not physically part of the building.
Lighting alterations
The new version of ASHRAE 90.1 also includes the rules for changing the lighting in buildings.
If you want to change the lighting in a building, and the total wattage of the lighting is over 2000W, you need to follow the standard rules for power and control.
If the total wattage is less than 2000W, you just need to reduce the wattage by at least 50% and follow the rules for manual and automatic shutoff.
 If you're changing the outdoor lights on a building, there are rules you need to follow: 
If you're adding more than 10 new lights or replacing lights that add up to more than 20 linear feet, you need to follow certain power and control requirements.
If it's a smaller alteration, you just need to make sure the new lights use less energy than the old lights (at least 50% less) and can be turned off with a switch.
Lighting controls
ASHRAE/ANSI/IES 90.1 now updated the lighting control requirements for various spaces such as offices.
For smaller enclosed offices of 300 sq.ft. or less, occupancy sensors are required as the automatic shutoff strategy.
For larger offices, such as open offices, occupancy sensors are required to provide automatic shutoff within 20 minutes of the area being unoccupied, with the control zone for each sensor limited to 600 sq.ft.
All lighting in occupied zones is allowed to turn On to full power. If only some of the control zones in the office are occupied, the general lighting in the unoccupied zones is allowed to automatically turn On to up to 20% of full power.
New threshold for daylight-response controls
In the new version of the 90.1 standard, there are new requirements for controlling lighting in areas with daylight.
The threshold for when automatic daylight-responsive controls are needed has been lowered to 75W for primary sidelit areas and toplit areas.
If the total wattage of general lighting is greater than 150W in primary and secondary sidelit areas, daylight-responsive control is required in both areas. The controls will dim the lights in response to daylight, down to 20% or less, and must be controlled together in overlapping sidelit and toplit areas.
Exterior lighting controls
Standard 90.1-2022 now requires all outdoor lights to have an Off control and be dimmable by at least 50% through a schedule or occupancy sensing.
Occupancy sensing must dim lights within 15 minutes of vacancy, and a control zone can only handle up to 1500W of lights.
Guestroom lighting controls
Hotels, motels, and similar places must have automatic shutoff controls for lights and power outlets in guest rooms. This means that lights and outlets must turn off within 20 minutes of the room being empty.
For bathrooms, they must turn off within 30 minutes, but night lights using up to 5 watts can stay on.
Wrapping up
Now ASHRAE standard has been updated with new technology and conditions, It is important for those involved in the construction and operation of non-residential buildings to take a closer look at these changes and ensure they are following the new standard. It may take some time before this standard version is widely used, but implementing these changes will lead to a more sustainable and energy-efficient future for our buildings and communities.
To know how Lumos Controls can help you comply with ASHRAE, and build futuristic buildings, contact our experts