CHANG AN Auto – China's largest AUTOMOBILE Audit and PR room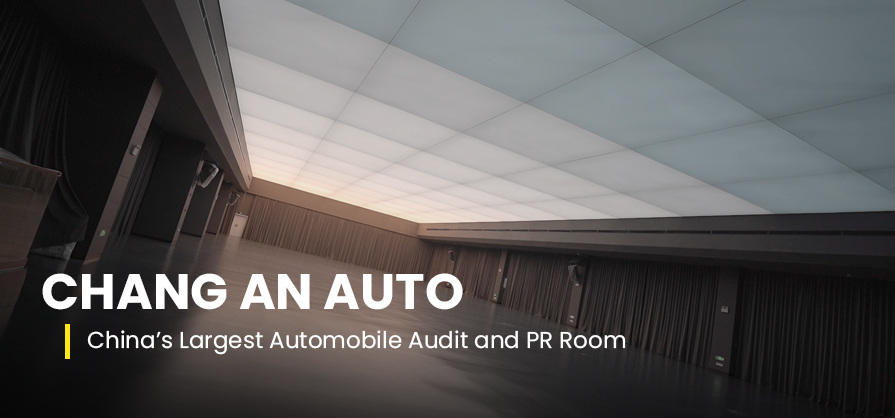 Background
Chang AN Auto is a leading automobile manufacturer based in China. They have been committed to providing the best vehicle test facilities for quite some time now. Their automobile audit center is situated in Chongqing city covers an area of 151,000 sq.ft of the facility and is one of the largest ever automobile audit and PR room in the country's history.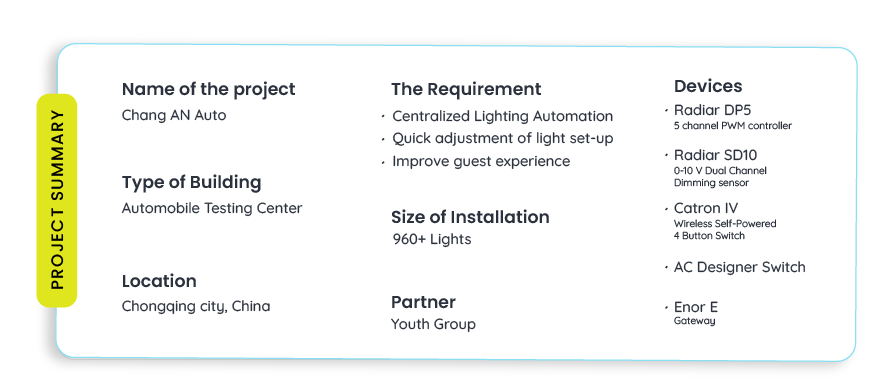 Objective
Earlier, Chang AN auto used a traditional lighting system for audits, which required manual operations. It didn't allow remote control, which was a fallback and delayed the entire process. They decided to upgrade to an automated lighting system that can be controlled remotely and provide different variations of light intensity and CCT, enabling them to test various vehicles in different lighting conditions.
The Challenge:
Chang AN Automobile's existing lighting system posed several challenges:
Manual Operation: The traditional lighting system used by Chang AN required manual adjustment, leading to inefficiencies in their auditing and testing processes.
Limited Lighting Variations: The inability to adjust light intensity and color temperature (CCT) restricted their ability to simulate various lighting conditions for vehicle testing.
The Solution
Chang AN Automobile approached Youth Group for a solution to their lighting system upgrade. After a thorough analysis of the requirements, Youth Group recommended Lumos Controls as the ideal partner for the project. Lumos Controls proposed a comprehensive lighting solution that addressed all of Chang AN's challenges.
Lumos Controls suggested the following components to transform Chang An's lighting system:
5-channel PWM Controller: This advanced controller provides exceptional color adjustment performance, allowing both manual and automated control of LED light color and brightness. It can be easily monitored and controlled through mobile devices or cloud platforms, offering Chang An the flexibility they needed for their operations.
0-10 V Dual Channel Dimming Sensor: The dimming sensor enables precise control over light intensity, allowing Chang An to create various lighting scenarios for vehicle testing.
Wireless Self-Powered 4 Button Switch: This user-friendly switch provides convenient on/off and dimming control, eliminating the need for manual adjustments and streamlining the auditing process.
AC Designer Switch: The designer switch adds a touch of elegance to the control interface while ensuring seamless integration into Chang An's facilities.
Gateway: The gateway serves as the central hub, connecting all components of the lighting system and enabling remote control and monitoring from anywhere.
The Results:
The implementation of Lumos Controls' lighting solution brought about transformative results for Chang An Automobile:
Enhanced Efficiency: The automated system eliminated the need for manual adjustments, significantly improving the efficiency of their auditing and testing processes.
Remote Control: Chang An now has the capability to control and monitor their lighting system remotely, providing them with flexibility and convenience.
Versatile Lighting Conditions: With the ability to adjust light intensity and CCT, Chang An can simulate a wide range of lighting conditions, allowing them to test their vehicles under various scenarios.
About Lumos Controls
Lumos Controls is the world's simplest smart lighting control that allows you to create exceptional lighting experiences for smart enterprises. The ecosystem features controllers, sensors, switches, gateways, mobile and web apps to set up basic to advanced smart controls. Lumos Controls offers you the freedom to decide what to achieve and how to grow and step into a sustainable future.
Contact with our Lighting Control Expert Now!