Emergency Lighting system via DALI: Why and How?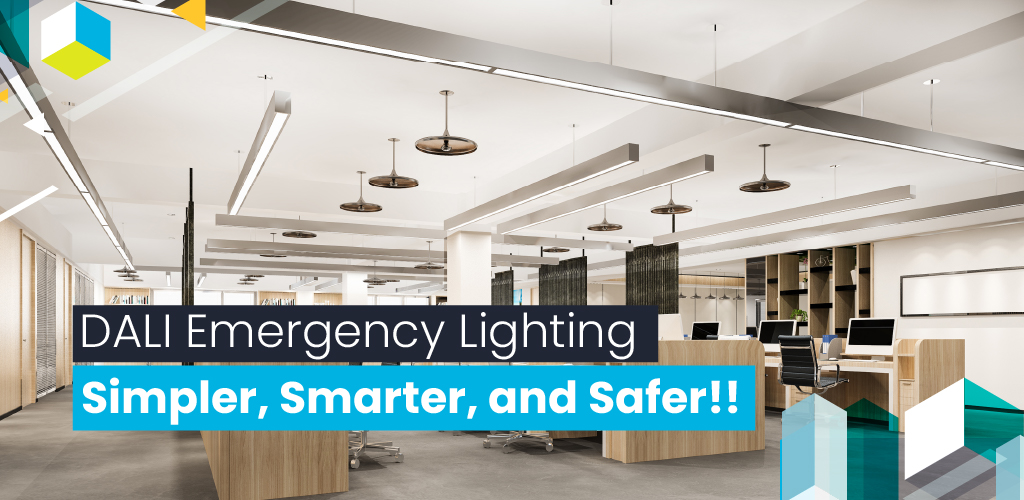 In building design, construction, and operation, emergency lighting is a requirement that needs special attention. Architects, engineers, designers, and building owners must consider the lighting control protocol and a solution provider's capabilities when selecting an emergency lighting product for an intelligent building.
This blog provides a detailed understanding of why choosing our DALI based smart emergency lighting system would be ideal.
Let us dig into the details!
What is DALI emergency lighting? 
An extension of DALI lighting protocol, DALI emergency lighting is widely chosen as a reliable solution to meet building emergency lighting requirements. Easy to install and maintain, the system offers automatic testing and provides insightful data to ensure maximum safety.
Key features of Smart emergency lighting with DALI controllers
Automated and remote testing to reduce human intervention, save people cost and effort
Centralized monitoring for a quick health check, diagnostics, and reporting
Interoperable with any DALI emergency driver confirming to the IEC 62386-202 standard
Diagnostics at battery and lamp level to proactively handle faults
Reports covering functional and duration tests for easy mandatory compliances
DALI is a type of bus technology that allows the control of multiple lighting devices from a single controller. This makes it much easier to manage an emergency lighting system, as all the lights can be controlled from one central location.
A DALI system consists of a controller connected to a network where every DALI LED driver and dimmable LED bulb is assigned a unique address to operate individually.
How Lumos Controls DALI emergency lighting system works?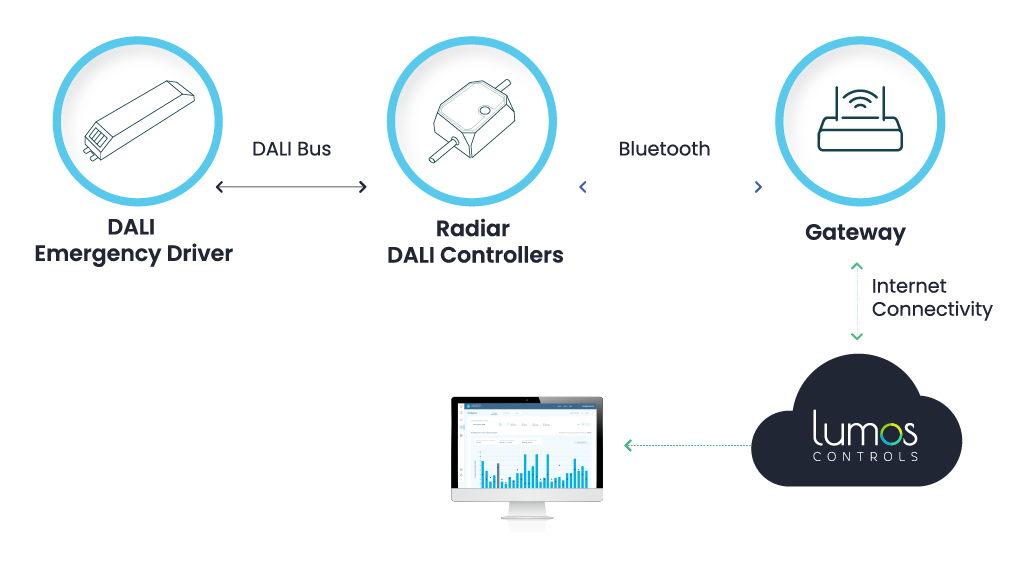 Lumos Controls smart emergency solution uses DALI drivers, that complies DALI-2 Part 202, IEC 62386. The drivers are categorised into 4 types based on capability of emergency lighting
Type D: Non-maintained: control gear which operates (always ON) the lamp only in emergency mode or test mode. It supports neither dimming (arc power control) commands nor corresponding configuration commands.
Type C: Maintained: control gear which operates the lamp (always ON), no matter whether the main supply is present or not. It supports neither dimming (arc power control) commands nor corresponding configuration commands.
Type B: Switched-maintained non-dimmable: the lamp can be switched ON or OFF when main supply is present but is ON when the main supply is not present.
Type A: Switched-maintained dimmable: the lamp can be dimmed or switched ON/OFF when main supply is present but is ON when the main supply is not present.
Why should you use DALI protocol for smart emergency lighting?

Reduce Manual Intervention
Emergency lighting device require mandatory testing. In DALI, function and duration are the two types of tests. We provide options for both manual and remote function/duration testing with an aim to reduce manual interventions.
Function tests verify the circuit's integrity and the proper operation of a lamp, a switch, and a self-contained battery. It's a brief test that typically lasts between a few seconds and one minute. It is done monthly (depending on the region).
Duration test for a more extended test for the rated duration, typically lasting 1 to 3 hours. It is done every year (depending on the region). It guarantees that the battery can run the lamp for the specified time. After the rated duration, the battery must still be able to power the lamp.
Save Time
When comparing to 0-10V emergency, DALI is much easier to install and maintain than other types of emergency lighting, as all of the fixtures are connected to the same controller. This makes it much simpler to keep track of the system and make sure that all the devices are fully functional.
Improved Productivity
Another key advantage of DALI emergency lighting is that it can be easily integrated with other building systems. For example, DALI-compatible fixtures can be connected to a building's fire alarm system, so that they automatically turn ON when the alarm is activated. This eliminates the need for manual activation of the emergency lighting system and ensures that the fixtures will be available when needed most.
More Durable and Less Expensive
DALI requires less wiring. It doesn't need separate bus lines, group wiring or external relays to power supplies. It results in increased comfort and less expenses. Additionally, it implies that any installation or maintenance tasks may be completed swiftly and with little downtime.
Always on Track
Quick and accurate monitoring is one of its great advantages. Since there is a two-way communication system between the controls, each luminaire can immediately request the most precise and recent information. If using an app, the page for the detailed test results of an emergency device will display the emergency device name, test details, emergency status, failure status, and can take required actions.
Effortlessly Meet Specific Needs
DALI allows individual control of each light fixture, so they can independently turn ON or OFF. This flexibility is not possible with other types of emergency lighting, which typically have to be turned ON or OFF as a group. DALI emergency lighting is most effective in buildings with large, complex floor plans. This flexibility is especially beneficial in buildings with evacuation only or partial evacuation strategies, as it allows the emergency lighting system to be tailored to the specific needs of each floor.
Final Word!
DALI emergency lighting is a great way to keep your building safe during a power outage. If you're looking for a reliable, smarter, and efficient emergency lighting solution, then the DALI protocol is worth considering.
To know how we meet Emergency lighting requirements using our DALI controllers, feel free to contact us!