Emergency Lighting Systems: Traditional Vs. Smart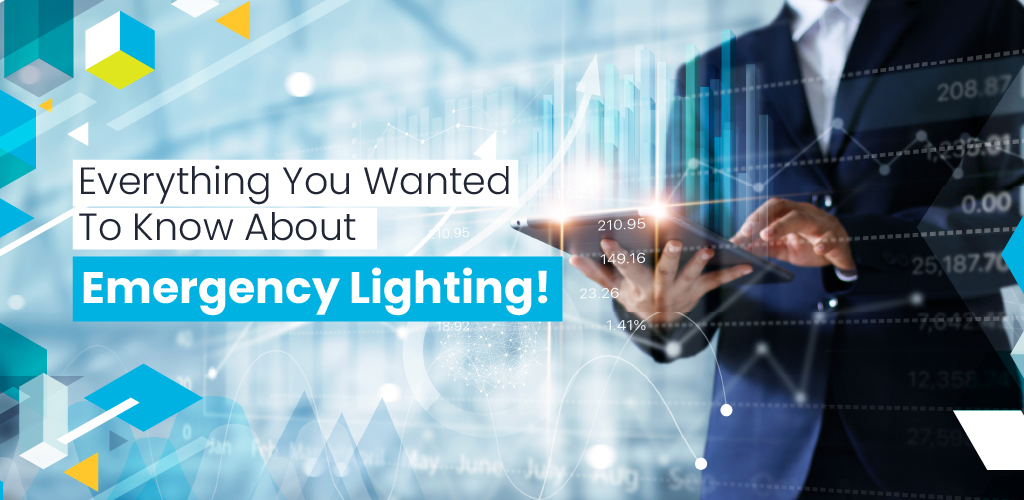 Emergency lighting is crucial to the safety and health of your employees. The more aware you are of your surroundings, the better they can react in an emergency situation. And when designing a building, emergency lighting systems play a significant role. The ever changing technology and advancements has created a significant impact on the emergency lighting system as well.
In this blog, we will discuss why choosing a smart emergency lighting is ideal for your next project.
Let us dig into the details.
What is emergency lighting?
Emergency lighting are the back-ups to provide illumination for egress pathways when an emergency or disaster occurs. It is essential for safe evacuation, and the building is considered safe only when all the emergency lights are fully operational. Regular testing and maintenance is unavoidable for emergency lighting.
Building regulations have made emergency lighting mandatory for commercial buildings. Placing them strategically over the entire building is important for the safe functioning of the building.
Traditional Vs. Smart Emergency Lighting
Traditional
Smart
Manual Testing
Labor intensive and difficult to manage
Automated Testing
Eliminates costly manual inspections

Real-time Status Unavailable
Immediate response impossible
Real-time Status Available
Can rectify issues immediately

Smart emergency Key benefits at a glance
Smart emergency lighting systems are more intelligent, reduce costs, make maintenance easy, and improve customer value. A major benefit is adaptiveness to real-time events making evacuation even quicker.
Flexible and highly functional
Smart emergency lighting has been designed with the flexibility and functionality to suit your business's specific needs. With smart emergency lighting, you can:
Install and commission quickly, easily and inexpensively
Reduce labour costs and save money on maintenance
Centralized monitoring to analyze the performance of your system in real time through its web interface or app—no need for costly annual visits from technicians
Complete integration with other security and emergency access systems
Test systems from anywhere, anytime
Can schedule automatic self-tests to identify failures and fix the issues. A detailed test report gives an in-depth understanding of the entire system. Human intervention is not required and manual-error will not occur.
Remote monitoring
You can monitor and control the lighting network via web/mobile app. Sensor integration enables intelligent occupant detection and make evacuation easier.
Saves time and cost
Simplified wiring makes installation easy and saves time. Also, depending upon the protocol, automated testing is provided. You can also control your smart hub using a mobile app if you want greater control over your building during an emergency.
Ideal for retrofits and new construction
Easy to integrate into existing buildings or if the end-user wants to monitor the emergency lighting remotely.
Conclusion
Choosing the right platform and technology will guarantee the occupant safety, cost-effectiveness and ease-of-use. Smart emergency lighting has several advantages including affordability, dependability, and efficiency. They can quickly integrate with wireless technology to build a network of different devices and an intelligent lighting system.
Want to know how Lumos Controls meet emergency lighting requirements? Feel free to contact us!