How to adopt intelligent lighting controls in schools?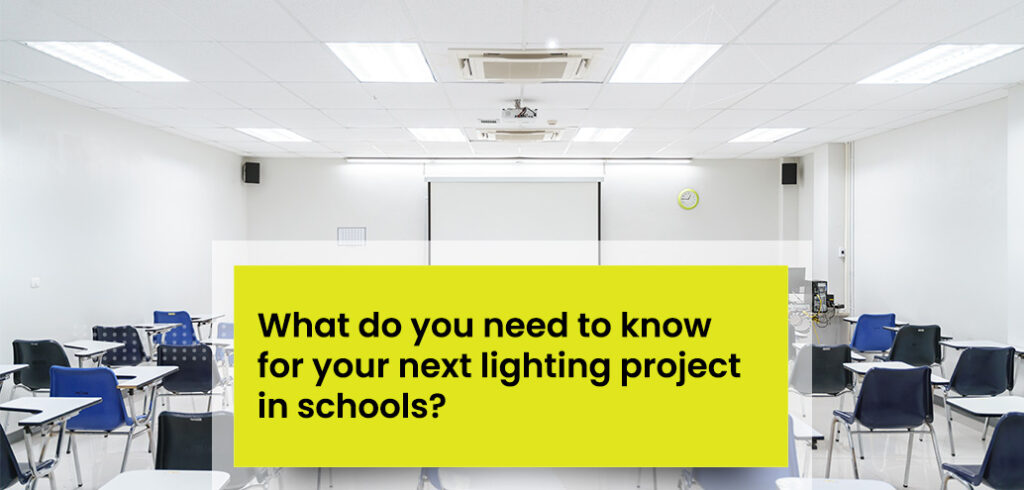 The U.S Department of energy reports that K-12 schools spend more than $8 billion annually on energy, making energy the second-highest operating expenditure for schools after personnel costs.
Budgets are tight. Energy costs are on the rise!
Fortunately, energy improvement measures could save up to 1.5 billion yearly in many K-12 schools.
The best part? Nearly 40 million brand-new textbooks could be purchased with that much!
As a contractor, you have to focus on cost-effective, sustainable and smart lighting solutions for educational space while improving student performance, productivity and wellbeing.
Let's take a walk through a typical school building, space by space and learn how lighting controls can be implemented to save energy and improve the learning experience.
Education spaces
Classrooms
Library
Stairways and Corridors
Open spaces
Classroom
Choose lighting solutions that allow you to make the learning environment more productive, comfortable and healthy. You can customize the right light to keep students focused and alert and optimize for learning and presentations.
The appropriate use of natural light has a positive impact on students' well-being, attention span and learning aptitude. Daylight harvesting dims electric lights or switches them off during the day to take advantage of available sunlight. Daylighting is most effective in areas that consistently get ample daylight, such as adjacent to windows or near skylights.
Automatic Daylight-Responsive Control (Side lighting)
Side lighting allows daylight in through windows or other openings on the sides of the building.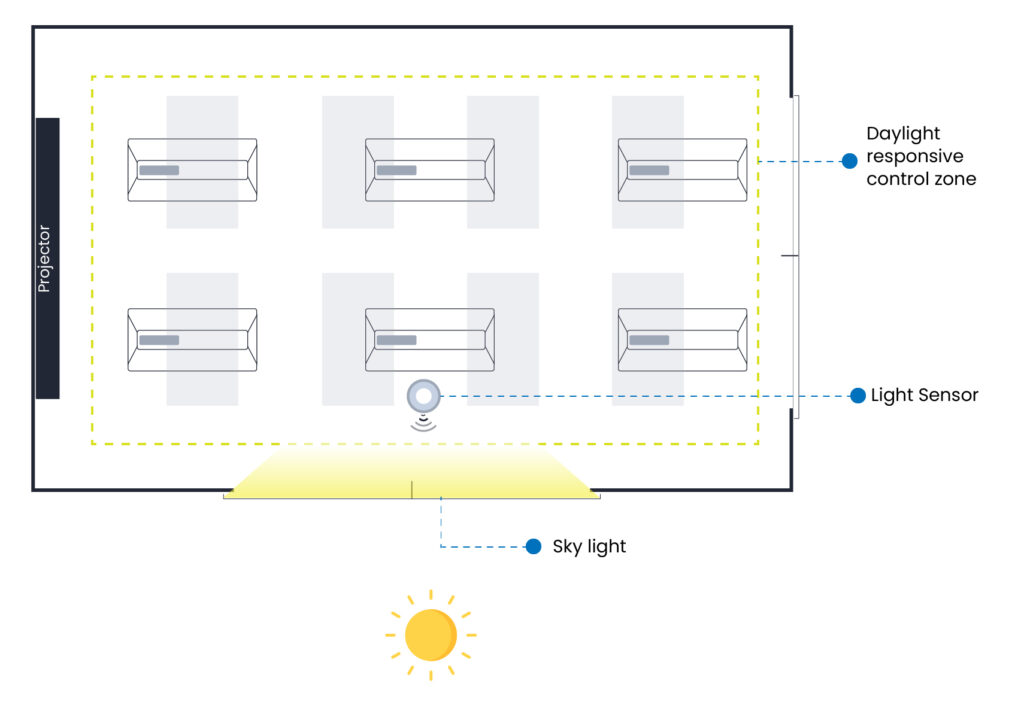 Automatic Daylight-Responsive Control (Top lighting)
In top-lit systems, daylight enters into interior floor space area from above (e.g., skylighted)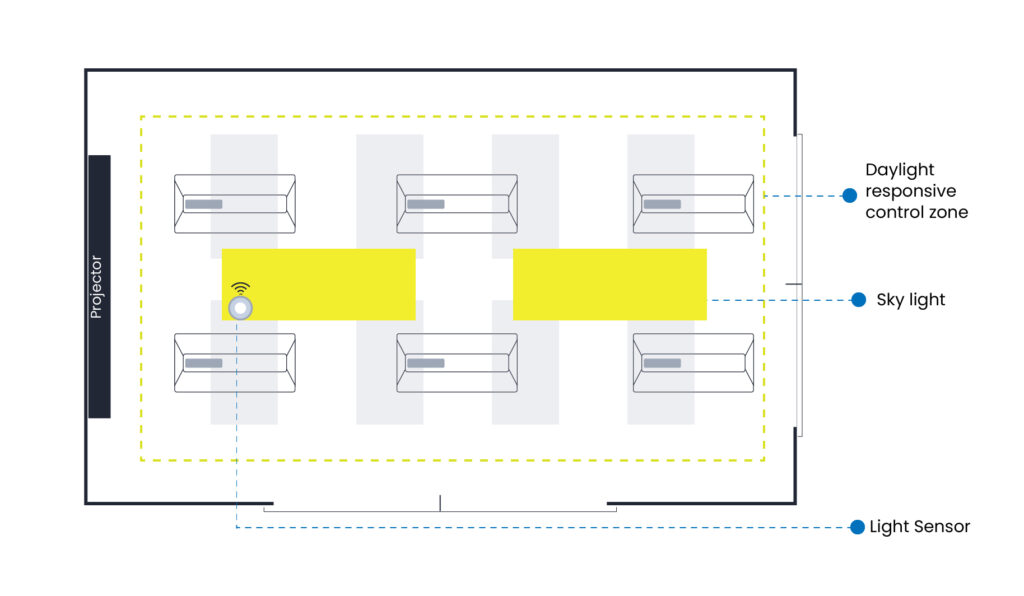 Related: What, How and the Benefits of Daylight Harvesting!
Occupancy based lighting
Occupancy- based lighting controls are perfect for classrooms to drastically cut down energy costs. Installing occupancy sensors in classrooms means lights will only remain ON when students are present. Classrooms will be inactive during nighttime, weekends or holidays and occupancy/vacancy sensing can ensure lighting is not left ON when space is unoccupied.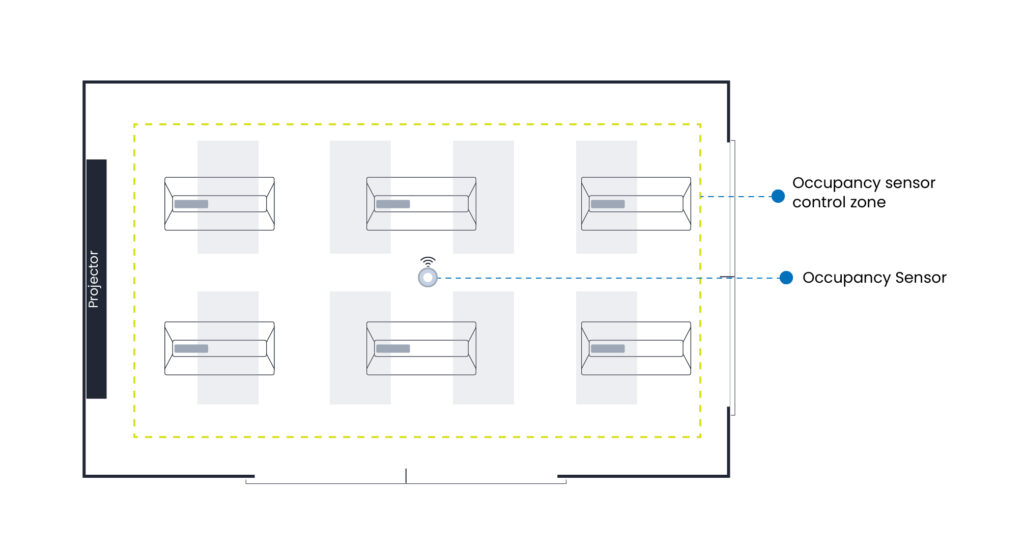 Plug Loads
Managing plug loads can save electrical energy and money. Plug loads are the energy used by any device or equipment plugged into a standard AC outlet (120V/15A). These products typically draw power even when they are not in use. Managing plug loads can save electrical energy and money. Computers/monitors, laptops/tablets, printers and scanners, fans, desk and table lamps, Air conditioners and projectors are common plug loads in a classroom.
Task Tuning
Task tuning, also called "Institutional Tuning," is becoming increasingly viable as a way to save energy while increasing occupants' comfort. Lighting energy usage can be reduced by 30 percent or more through high-end trim, which sets the maximum light level for each space. For instance, when lights are set to 70%, energy use is reduced by roughly 30% yet the human eye can hardly tell the difference between both light levels. The low-end trim is the lowest light level to a percentage other than zero. When you set the low-end trim, your lights never turn off but will dim to the pre-set intensity.
Scheduling
Scheduling involves turning ON/OFF/DIM luminaires based on preset intervals. In classrooms that remain closed during weekends and overnight, scheduling is one of the best lighting control strategies to save energy.
Interested to know more on lighting control strategies? Click here
Library
A library space needs lighting that can provide a productive and comfortable atmosphere for all students, teachers and administrators. Lighting controls should illuminate specific areas in a library while reducing energy usage and maintenance costs while creating a more welcoming atmosphere.
Effective use of natural light can reduce energy usage and make the library feel more comfortable. If space gets enough daylight, adopt daylight harvesting to adjust the interior light level. This will help students to stay focused and improve visual comfort. Side lighting allows daylight in through windows or other openings on the sides of the building. In top-lit systems, daylight enters into the interior floor space area from above (e.g., skylighted)
Installing Plug Load Controls will turn off the power to receptacles when not in use, and reduce energy wastage. Computers/monitors, laptops/tablets, printers and scanners, Fans and Air conditioners are typical plug loads in the library.
Occupancy/vacancy sensors, which can automatically turn lights ON when someone enters the space and OFF when leave, are a smart and easy way to save energy in the library.
Stairways and Corridors
Lighting controls in stairways and corridors need to meet aesthetic and security needs to create a comfortable and welcoming ambience. The light control system must be robust enough to address the requirements of space and enhance the visual environment.
Stairways and corridors require:
An effective way to accommodate the available daylight. A sensor which adjusts lighting in response to available daylight is required for sidelight and skylight zones.
Occupancy/vacancy sensors mounted on walls or ceilings. Installing PIR or microwave sensors will detect occupancy to turn lights ON while saving energy during vacant time.
A high-end trim tuned to reduce glare and balance brightness. This can save as much as 20-30% of the energy in a typical system.
Open spaces
Cafeterias, common areas, auditoriums are the common open areas in a school. Perfect lighting controls will make these spaces welcoming and enjoyable! Schools house a variety of open spaces, including the cafeteria auditorium and recreation center. Create a comfortable and positive space with the proper lighting controls in every area where students socialize, study and relax.
Daylight sensors will work best for open spaces with skylights, windows and doors. The Day light harvesting system can save energy by dimming lights based on the availability of natural light.
Perform High end trim/ task tuning to reduce intensity from 100% down to a lower level that is safe and comfortable for all the occupants.
Use occupancy/ vacancy sensors to automatically turn lights ON or OFF. Occupancy sensing works best for dining area, restrooms, conference rooms, break rooms, filing areas and hallways,
Plug Load Controller saves energy by controlling plug loads through occupancy or schedule-based on/off control of receptacles on a circuit.
Smarter lighting, smarter learning
The ever-increasing demand for a student-centric learning environment and higher energy cost demands various lighting control strategies. Each space in schools is an opportunity to improve occupants' comfort, student attention span, and safety. Right lighting control solution can offer the greatest potential for energy savings in school buildings, not to mention the unmatched lighting experience.
If you're looking to speak with an expert about implementing an intelligent lighting control system, contact us today, we'd be happy to help.