IECC 2021 – A lighting code update for commercial buildings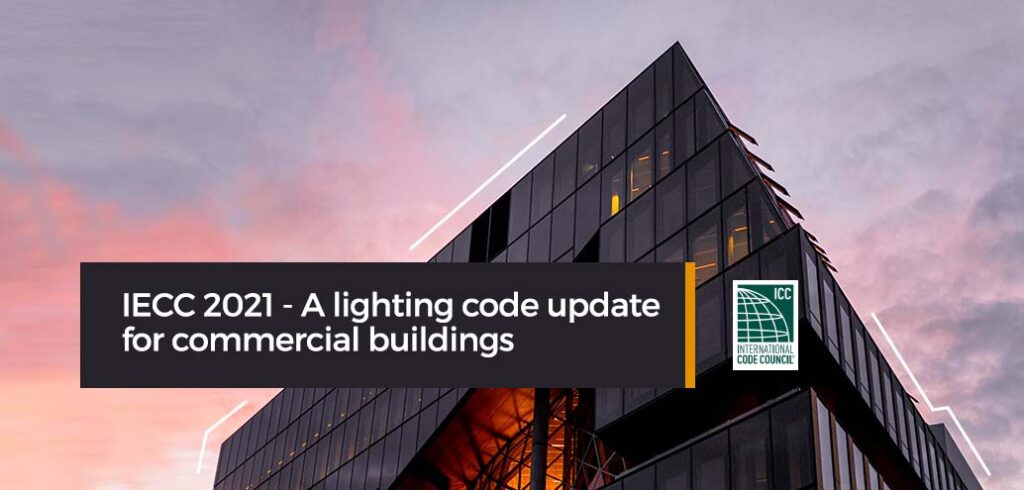 The U.S. Energy Information Administration (EIA) has evaluated in the Annual Energy Outlook 2021 that in 2020, commercial lighting consumed about 157 billion kWh of electricity, which equals 12% of total energy consumption. 10% of the total energy accounts for workplace lighting alone, and that is where the International Energy Conservation Code (IECC) gains importance! However, it's not only focusing on reducing electricity consumption but much more! Though IECC is recognized as a standard for energy efficiency in new and renovated buildings, the mandatory requirements for compliance also ensure quality lighting, reduced life-cycle costs, and overall well-being of occupants.
IECC 2018 V/S 2021
When comparing with 2018 edition, the updated version has reduced the interior lighting power allowances, besides making daylight-responsive control for secondary daylight zones, plug load controls and parking garage control requirements as mandatory. The growing maturity of LED technology resemblances in the steady decline in the allowances of Building area method.
IECC 2021: What is in store?
IECC 2021 aims to reduce energy consumption by incorporating 19 Building Lighting proposals which includes automatically dimming or turning OFF lighting when unused. This is ensured through occupancy, a time event, or ambient light level. To ensure quality lighting and convenience, manual controls are incorporated as required. For smooth and effective commissioning, the lighting system is functionally tested and verified by construction documents.
How commercial buildings benefit from IECC 2021?
Commercial building requires quality lighting. IECC 2021 focuses on enhancing comfortable lighting in commercial buildings besides reducing energy usage and operational costs. It also focuses on the health and safety of occupants. The most significant benefits commercial buildings are going to witness are energy efficiency and Occupant Well-being.
Energy Efficiency
IECC ensures eliminating electricity wastage besides reducing greenhouse gas emissions. The mandatory lighting control requirements and power allowances focuses on reducing energy consumption by utilizing minimum energy for maximum output.
It is achieved through the following lighting control requirements.
Energy Monitoring:
By bringing in Energy Monitoring as a mandatory requirement for Buildings 25,000 ft2 or larger, IECC aims to reduce energy wastage through insightful usage data.
Commercial Buildings with greater occupancy rates and usage patterns will benefit from this requirement. Based on the data received, they can decide on the strategies to reduce energy consumption.
Occupancy Sensors & Daylight light responsive controls:
The code has made it mandatory to have occupancy sensors in spaces like corridors to reduce power by 50% r w/in 20 minutes of occupants leaving the room. In any commercial building, this requirement is going to have a huge positive impact.
These are the spaces that are over lit or are lit 24/7. This requirement will multiply energy-saving substantially. The code has also made daylight-responsive controls mandatory in warehouses, open offices, and corridors.
When compared with occupancy sensing, the light sensors won't raise power reduction above the level set by the occupancy sensors but brings in all the benefits of exposure to natural light.
Automatic Receptacle Control:
The energy saving benefit of this code requirement is huge. In Commercial buildings, turning OFF lights is a real challenge! Automatic receptacle control will save a huge amount of electricity through occupancy sensors and automated controls that turns off lighting within 20 minutes of vacancy.
Also, scheduled basis using time-of-day will ensure the right light level, reducing unnecessary energy wastage!
Occupant Well-being
IECC 2011 has made Daylight responsive controls mandatory. This lighting requirements focus on the importance of daylighting in buildings. Exposure to daylighting has numerous physical benefits and has a positive impact on overall wellbeing of the occupants.
Day light has therapeutic benefits and the occupants will feel more connected with the environment. In commercial establishments people usually spend more than 9hrs per day. Most of them complain about tiredness and exhaustion. By improving the light quality, occupants will feel the environment energizing, engaging, calming and soothing. This will have a positive impact on their productivity and overall well-being.
As rightly said by Mariana Figuerio, Director of the Lighting Research Center (LRC) "If your biological clock is out of sync with your watch, it's like having jet lag all the time." The quote clearly explains the importance of exposure to the appropriate light level. When the lighting is at appropriate Circadian Simulation levels during the day, it will help the occupants to sleep well in the night and stay energetic throughout the day.
The table below depicts the benefits of daylight exposure. It is an extract from a study carried out to find out Occupant Wellness in Commercial Office Buildings. These results are assured that when IECC ensures daylighting as a mandatory requirement, it will positively impact occupant well-being.
Conclusion
The IECC 2021 lay a strong foundation in guiding designers, engineers, contractors and architects in building commercial spaces that are energy-efficient. The code also focuses on creating a relaxed and glare-free ambiance. The well-adopted code requirements have the potential to beautify the space and elevate the mood of the occupants. It will also make buildings comfortable, highly secure and cost-effective to operate. However, partnering with a team that offers flexibility and interoperability in designing smart and safe working environments is crucial. It is important to have a partner that can meet your future needs intelligently.
To know how Lumos Controls can help you comply with IECC, and build futuristic buildings, click here.