Lighting Controls for Net Zero Targets: What architects need to know!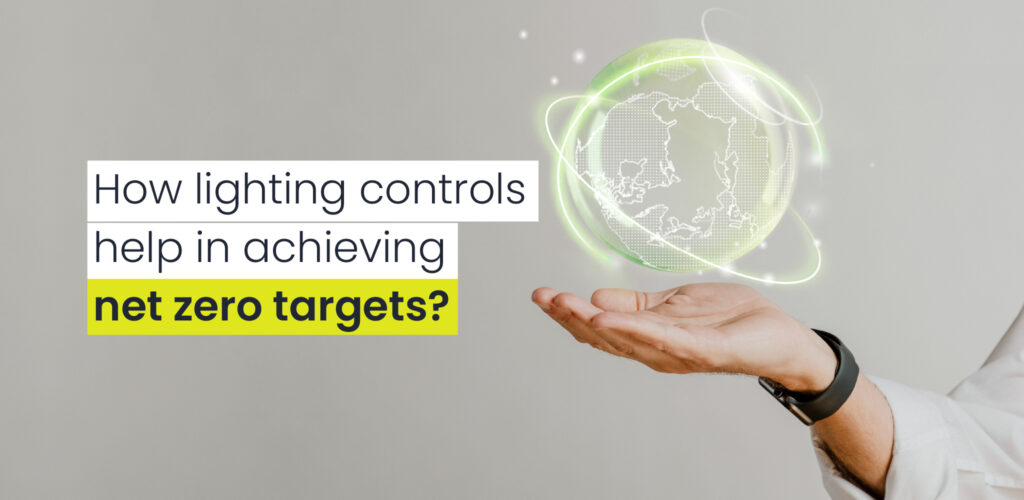 Buildings significantly affect the environment both directly and indirectly.
"Net Zero Emissions" is the most commonly used term to describe sustainability. Sustainable design, green building standards, certifications, and rating systems can reduce the harmful effects of buildings. Green buildings focus on reducing the overall impact of the built environment on health and the natural environment by efficiently using energy, water, and other resources. Since the 2015 Paris Agreement, many nations have formally committed to achieving net zero emissions by 2050.
As an architect or electrical contractor do you realize the importance of sustainable construction and green buildings? Are you worried about meeting the standards of green buildings in a cost-effective manner? Wondering how lighting controls can help in achieving net zero targets? Is it a far-fetched reality?
Let us explore more!  
The effective way to improve lighting efficiency is by minimizing lighting energy consumption and lighting loads. And these effective ways of energy savings support the path to zero net energy buildings.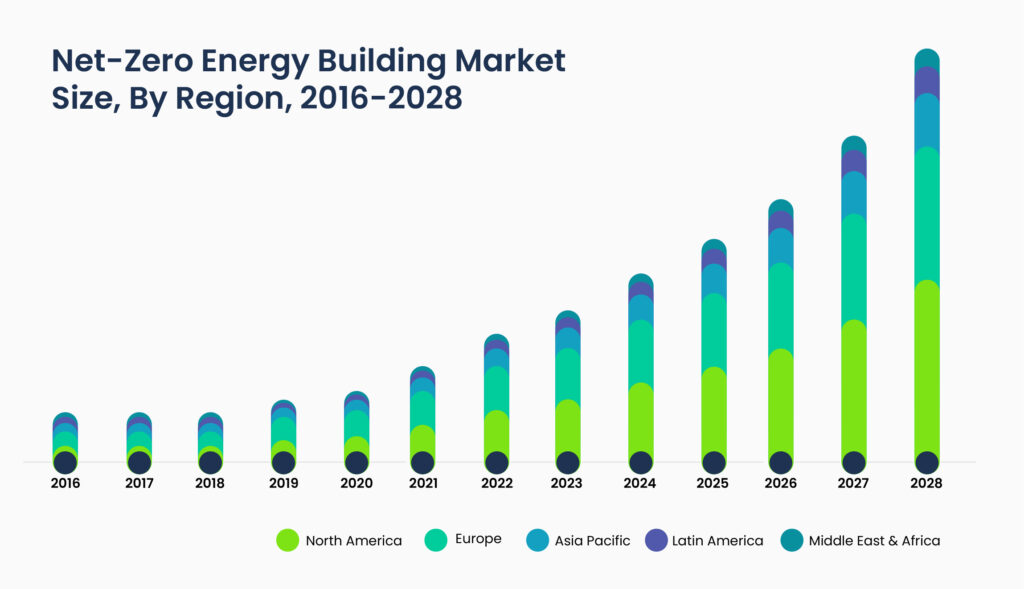 The checklist to improve lighting efficiency
Reduce illuminance levels to values recommended by standards and codes
Optimize lighting strategies
Change the lighting design philosophy
Focus on the lit effect
Deliver the right light where and when require
Minimize lighting power density
Optimize levels of illuminance
Use highly-efficient lighting technologies
Use appropriate lighting control systems
Maximize daylight use
The effective implementation of lighting control strategies or combining one or more strategies in a space will cut down energy consumption drastically. So what should you do?
First and foremost, you should set Lighting Goals
To start down the path of successfully slashing facility lighting energy use, set two goals as early as possible in your project
1. Set a Maximum Lighting Power Density goal
The electrical load of lighting per area lighted, expressed in watts per square foot, is known as lighting power density (LPD).
Many spaces have excessive lighting (i.e., LPD that is excessively high), which wastes energy and could make occupants uncomfortable.
Therefore, getting appropriate LPD is essential to fixing several issues.
2. Set a Daylight Sufficiency Goal
Based on the LPD, the daylight sufficiency target establishes the quantity of daylight required to provide sufficient light for each space.
It is measured in foot candles or lumens. The ideal daylighting level required for most tasks in the area will strike the right balance between too little daylight (causing eye strain or needless use of electric light) and too much daylight (resulting in excess glare or heat).
Did you know?

In a commercial building, combining one or more lighting control strategies together is the best way is to maximize energy savings.

For ex: In an open office with fixed working hours, incorporating scheduling along with daylight harvesting will maximize energy savings. It also gives you better control and flexibility over the space.
After setting up the goal the next step is to craft a lighting strategy.
Here the focus should be on best practices to harvest sufficient daylight to supply ambient light and provide occupants lighting options to meet various lighting requirements.
Task tuning or task lighting is an effective lighting control strategy to reduce energy consumption drastically. Depending upon the space and lighting requirement, this control strategy allows you to set a required light level that ensures visual comfort. This also ensures energy is not wasted unnecessarily. It ensures energy savings between 5-15%.
Occupancy/Vacancy sensing
Occupancy sensors cut short energy wastage drastically. It detects human presence and turns ON lights automatically. Whereas, vacancy sensors detect vacancy and turn OFF lights automatically. This strategy is an effective cost-effective strategy for decreasing lumen output and the operating time, reducing energy consumption up to 50%.
Receptacle Control (also known as Plug Load Control), which automatically turns off plug loads to lighting and other unwanted electronic devices when the area is vacant, is one easy way to keep lights off when they aren't needed. Plug loads may make up more than 50% of the total energy used in buildings. Using an integrated team approach, cost-free, and inexpensive plug load reduction solutions into place, you may lower plug loads at your facility by up to 50%.
An important energy-saving technique for commercial facilities is daylight harvesting. When enough ambient light enters an area, electric lights can be dimmed, turned down, or switched off automatically. It helps to keep the perfect amount of light in a place so that it never gets too bright or too dark.
This method makes it simple to turn off the lights after regular business hours since lighting output automatically adjusts to a timetable established by a timeclock controlled by a microprocessor included in the control system.
According to statistics, it can also save lighting energy use by 10% to 20%. Additionally, you can set up fixtures to dim at specific times of the day. With more sophisticated systems, you may plan your lighting schedule to coincide with specific days of the week or even holidays, ensuring that the lights are on when needed and off when not.
Why Lighting Controls Strategies?

Energy savings: Lights can be dimmed or switched off automatically based on occupancy or daylight levels.

Increased bulb lifespan: Reduce waste emission, which is achieved using less, especially with incandescent and halogen lighting.

Adjust Light levels: lower levels can for ambience and greater levels for jobs that call for more light.

Programmable Preferences: Once users have established their preferences, nothing else needs to be done.

Security: Turn on lights based on occupancy and during emergency
To Wrap it Up
With a sophisticated "grid-to-plug" energy management technology at its heart, the route to net zero buildings is easy. An efficient lighting Control solution enables intelligent management and controlling of energy by assisting people in better understanding and managing their energy.