Lighting Retrofits would be the biggest opportunity for Electrical contractors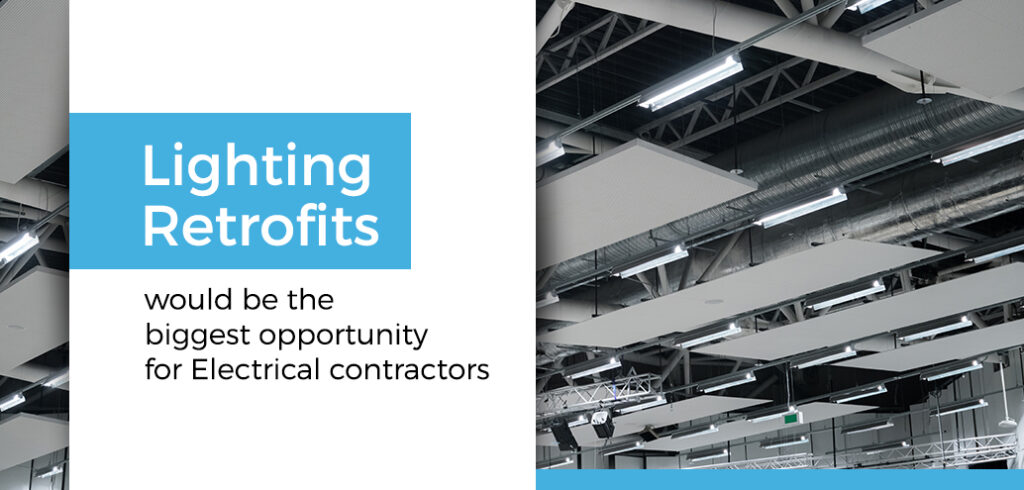 Are you an electrical contractor? Are you looking for a lighting upgrade in building retrofits? Are you looking for new opportunities to strengthen your business in this post-pandemic era?
Then you are at the right place. Read on!
Covid has cost widespread disruptions and had crippled many economies ever since its outbreak in 2019. Now, as the world moves for the post-pandemic era, bringing people back to commercial building spaces is a big concern for many building owners. As a result, building owners are giving prime importance to building renovation to help create easy remodeling spaces. They are looking for spaces that are energy efficient as well as capable of promoting a safe and healthy environment for occupants. This unique requirement has provided ample opportunities for electrical contractors who are looking for new businesses.
As lighting upgrades are an integral part of building renovations, an electrical contractor should consider using advanced wireless lighting controls solutions as part of the project. It will help complete any retrofit project undertakings on time and within budget with ease, thereby providing you with much-needed flexibility on work.
Now let's delve deep and see how wireless lighting control helps you as a contractor.
Easy installation
A wireless lighting control reduces the complexity in the installation process with little to no disruptions to building occupants. These lighting controls require zero to fewer wires, allowing contractors like you to install all required equipment from a sensor to a controller on a wall or ceiling easily, even on ageing building infrastructure. Furthermore, all this can be completed in comparatively less time as wireless lighting control can be installed and commissioned in minutes.
Flexibility
Wireless lighting controls can be fixed anywhere without any limitations imposed by wiring, including areas that are difficult to wire from plenums to airholes. It allows contractors with more flexibility as electrical planning is shortened. Even after installation, the devices can be moved as well as the lighting system can also be expanded with relative ease as per the requirement.
Low labor cost
With, the elimination of dedicated control wiring and associated switch legs reduces the need for traveler wires, conduits, and other raw materials, thereby reducing the labor cost and simplifying the installation process. As there is no damage done on walls or ceilings and with no disruptions whatsoever to the business operations, wireless lighting control blends itself well with any complicated installation process required by any retrofit construction.
Scalability
The main attraction of wireless lighting is that it can be scaled easily. You can easily control a single space or a complete building with thousands of wireless devices. It is highly applicable in buildings where running control wires is too expensive or not just possible such as retrofits.
Availability of Rebates
Wireless Lighting controls have played a significant role in improving building energy efficiency. They are now common in rebate programs and have helped building owners reduce the upfront cost and speed up the return on investment.
Applications of Wireless Lighting Controls
Wireless Lighting control is ideal for commercial office spaces, K12 schools, and universities, hospitals, and retails with options that suit the need for different spaces explicitly. They can be integrated into the existing lighting system with ease without any repercussions on the existing lighting infrastructure.
Check out our blog on schools and office spaces to know more about the benefits of wireless lighting control on these commercial lighting spaces.
Conclusion
In an everchanging advanced world of lighting control, contractors need to choose their lighting solutions wisely. Currently, there are many lighting control vendors, and it is crucial to select a vendor capable of providing a code-compliant and easy-to-use lighting control solution. Also, as we move towards a digitally connected world, your investment should be for the future. So it would be best if you chose an IoT-enabled solution for your customers to keep doors open for future IoT possibilities.

If you want to think smart and act fast for your upcoming projects, feel free to contact us. We will help you meet your diverse needs!