Lumos Controls, a WiSilica Brand, announces Strategic Partnership for Scotland, UK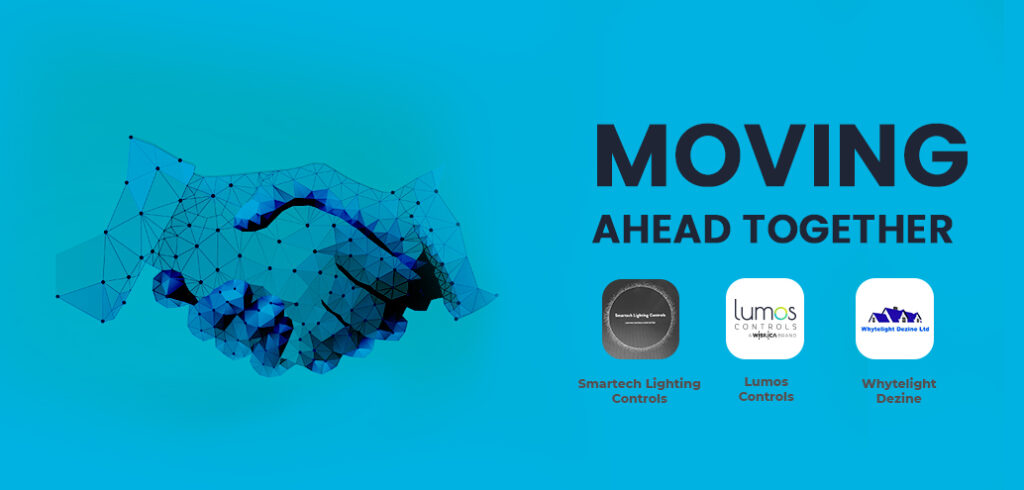 Strategic partnership expands Lumos controls' smart lighting network in UK and Scotland.
Laguna Hills, California, March 17, 2021 – WiSilica, the world-class Intelligent Wireless Lighting Controls provider, is excited to announce a strategic partnership with Smartech Lighting Controls, a leading lighting controls company with a focus on smart connected lighting for the connected building and Whytelight Dezine, a leading lighting control supplier in the Scotland and UK market.
Based in Scotland, Whytelight Dezine comes onboard as a value-added reseller using Lumos Controls devices, components, and technology to design unique lighting Control solutions to achieve maximum energy savings. With the custom solution, they would be able to use wireless controls technology from Lumos Controls to save more energy and, most importantly, reduce installation time, leading to faster Job completion.
As commissioning partners, authorized by WiSilica, Smartech Lighting Controls bring onboard decades of experience in commissioning connected lighting controls. Smartech Lighting Controls will have up-to-date knowledge of all Lumos Controls products and provide consulting services to help designers, architects, building owners best integrate Lumos Controls Smart wireless technology into their design and projects.
This is a mutually beneficial partnership that allows us to promote our domain expertise to announce an exciting solution that has great potential in the UK lighting market, said Jack Martin, CEO of Smartech Lighting Controls. "Our Partnership with WiSilica and Whytelight Dezine Expands our commissioning expertise in the UK Lighting market."
Commenting on the partnership, Stuart black, CEO of Whytelight Dezine, said, "Lumos Controls from WiSilica is a perfect fit as our partner. They allow us to target multiple industries and use cases with a proven smart lighting solution capable of numerous integrations. We have always made unique offerings for our customers that include complete project solutions from various manufacturers. Lumos Controls allows us to maximize returns for the building community.
Suresh Singamsetty, CEO of WiSilica, commented on the announcement, "Creating an energy-efficient and automated ecosystem is a complex undertaking, but it is inevitable to meet sustainability goals. However, successful deployment and integration entirely depend on the selection of quality products and timely services. Therefore, we are excited to announce this partnership with Smartech Lighting Controls and WhyteLight Dezine Ltd because our intelligent solution and their on-field expertise will undoubtedly benefit building communities."
About WiSilica:
WiSilica is a smart environment IoT platform and solutions provider that bridges objects, locations, and people in real-time. ARIXA, WiSilica's location-aware IoT platform, provides complete cloud-to-device solutions for Wireless lighting controls (Lumos Controls) and real-time location solutions (TRAK). The company also offers customized end-to-end IoT solutions (ORION) to OEMs developing new smart solutions. WiSilica, with its expanding partnerships with global tier1 companies, is committed to extending its leadership in human-centric lighting, energy efficiency, space management, and AI-powered analytics. For more information: wisilica.com
About Whytelight DeZine Ltd:
Whytelight DeZine Ltd is a lighting design and supply company to supply FULL end-to-end solutions for the LED Lighting marketplace. We offer clients a one-stop shop approach to their lighting and control demands all in one place.
About Smartech Lighting Controls:
Smartech lighting Controls Ltd is a unique, professional and responsible lighting controls company with a focus on Smart connected lighting for the connected building.
Media Contact:
Vivek Pramod
WiSilica Inc.
23282 Mill Creek Dr #340,
Laguna Hills,
CA 92653, USA
pr@wisilica.com