Lumos Controls adds DALI fixture controller, sensor and switch interface device to its smart control ecosystem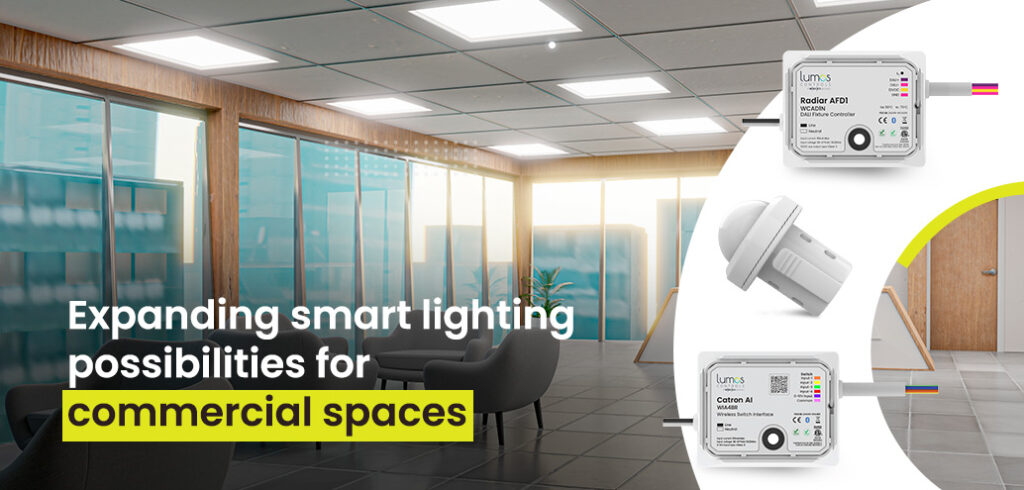 The newly added DALI controller, fixture mount sensor, and switch interface device will now reinforce the ecosystem as a one-stop solution for any commercial smart lighting project.   
California, August 4, 2022: Lumos Controls, the smart lighting control ecosystem from WiSilica, is introducing three new lighting control solutions to its extensive portfolio. The newly released AFD1 -DALI fixture controller, Cyrus F – fixture mount motion and light sensor and Catron AI- switch interface device will extend the smart lighting control possibilities for commercial enterprises across the US and European market. The addition further strengthens Lumos Controls' position as the industry's most complete lighting ecosystem that has everything from hardware and software components to cloud connectivity and advanced analytics.
Radiar AFD1
Radiar AFD1 is the industry's smallest DALI fixture controller and operates on universal input voltage (90-277VAC). It is designed to make luminaire level lighting controls easier than ever. The device has a compact form factor for easy integration inside a fixture or junction box. Minimal wiring efforts reduce design challenges and installation complexities, saving lighting designers and contractors' time. The device provides a safe and reliable solution to meet smart building emergency lighting requirements. It is also possible to generate emergency test reports to ensure the safety of occupants. Additionally, the device has a 12V auxiliary output to power the sensors without the need for any external powerpack.
Cyrus F
Cyrus F is a DC powered fixture mount dimming sensor for smart motion and light detection. It's compact form factor allows it to conveniently fit inside the lighting fixture cavity. This 0-10V dual channel device eliminates the need for an additional controller, saving installation time, money, and resources.
Catron AI
This AC powered switch interface device converts any wired switch into wireless, making it smarter. It can be connected with 4-toggle switches or push-button switches and a dimmer switch to control the intensity and CCT of luminaires. Using Lumos Controls lighting application, it is possible to create custom scene configuration for each switch. The compact design of the device makes it easy to fit within the flush box even in retrofits.
The new products will smarten the versatile Lumos control ecosystem comprising lighting control devices, multi-mount sensors, switches, gateways and analytical dashboards. 
"With these latest products, we have taken another important step to provide complete design freedom and ease of use" said Vivek Pramod, Senior Vice President & GM – Smart Controls. "Radiar AFD1, Cyrus F and Catron AI minimize the installation challenges and makes building more flexible, energy-efficient and cost-effective," he concluded.
To learn more about these products click here  
About Lumos Controls
Lumos Controls is a smart controls solution from WiSilica, the leading IoT platform and solutions provider. Built on an IoT platform (ARIXA), this solution features the most advanced lighting control devices, intuitive interfaces, and versatile edge/cloud computing that are brought together to build an intelligent lighting network that's future-ready for smart enterprises. Lumos Controls is on a mission to unlock the extraordinary potential of light and give lighting controls a life of its own and beyond.  
Media Contact:
Gokul Ravindran
WiSilica Inc
20321 Lake Forest Dr., Ste D-6,
Lake Forest,
California 92630, USA.