Lumos Controls adds fixture controller and gateway to expand its smart control ecosystem
The new devices will offer greater flexibility, security and uninterrupted connectivity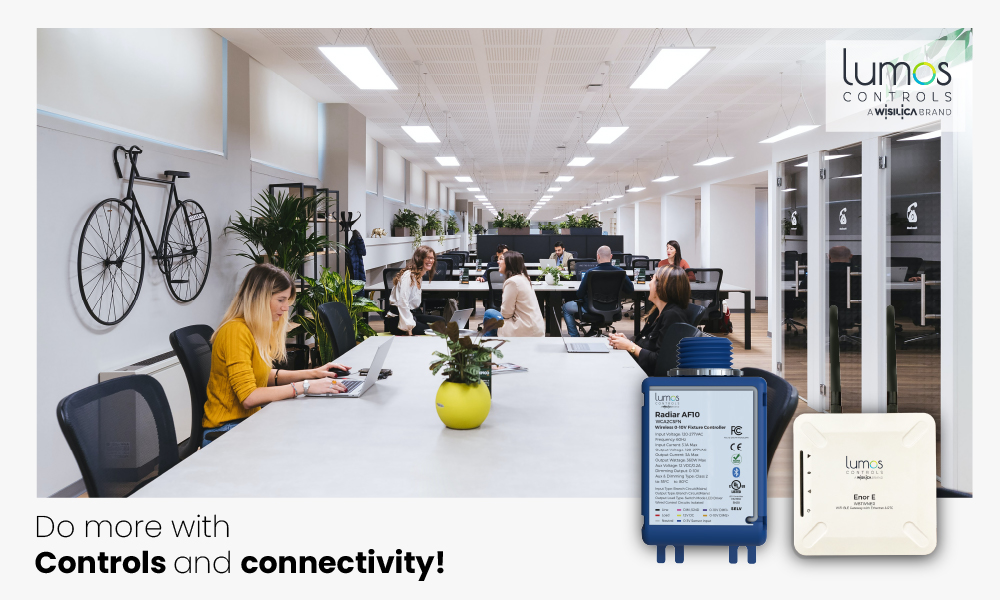 LAGUNA HILLS, California, March 31, 2022: Lumos Controls unveils its latest solutions to simplify fixture controls and improve connectivity for lighting networks. The addition of Radiar AF10, the AC-powered fixture controller, and Enor E, the gateway with real-time clock, WiFi and Ethernet, will strengthen the already robust product portfolio. The addition further reinforces Lumos Controls position as the industry's most complete lighting control ecosystem that offers everything starting from hardware components to cloud connectivity and advanced analytics.
Radiar AF10
Radiar AF10, the latest addition to the controller portfolio, transforms any fixture into an intelligent and energy-saving luminaire. It offers industry-standard 0-10V dimming controls and also comes with a single ON/OFF relay for non-dimmable/1-10V fixtures. Together with smart sensors and switches, customers can set up a code-compliant lighting network through quick and easy implementation of lighting control strategies. Furthermore, it is designed to be easily installed on a fixture or inside a junction box, making installations more effortless than ever before and minimizing design challenges.
Enor E
Enor E is an enterprise-grade gateway with a WiFi and ethernet port, providing safe and secure internet connectivity for smart lighting networks. The device comes with a built-in RTC (Real Time Clock) that keeps the network date and time up to date even after a power outage or without cloud connectivity ensuring uninterrupted scheduling.
"Radiar AF10 further enhances the Lumos Controls ecosystem and is a key milestone in our energy-saving and green building journey. Enor E, on the other hand, widens the opportunity for building owners to better utilize the data of smart buildings," said Vivek Pramod, Senior Vice President & GM – Smart Controls. "This is one in many steps to create extensive value for lighting controls beyond its staple functionality," he added   
You can read more about Radiar AF10 & Enor E here. 
About Lumos Controls
Lumos Controls is a smart controls solution from WiSilica, the leading IoT platform and solutions provider. Built on an IoT platform (ARIXA), this solution features the most advanced lighting control devices, intuitive interfaces, and versatile edge/cloud computing that are brought together to build an intelligent lighting network that's future-ready for smart enterprises. Lumos Controls is on a mission to unlock the extraordinary potential of light and give lighting controls a life of its own and beyond. 
Media Contact:
Gokul Ravindran
WiSilica Inc.
23282 Mill Creek Dr #340,
Laguna Hills,
CA 92653, USA