Lumos Controls announces partnership with a leading Korean lighting management company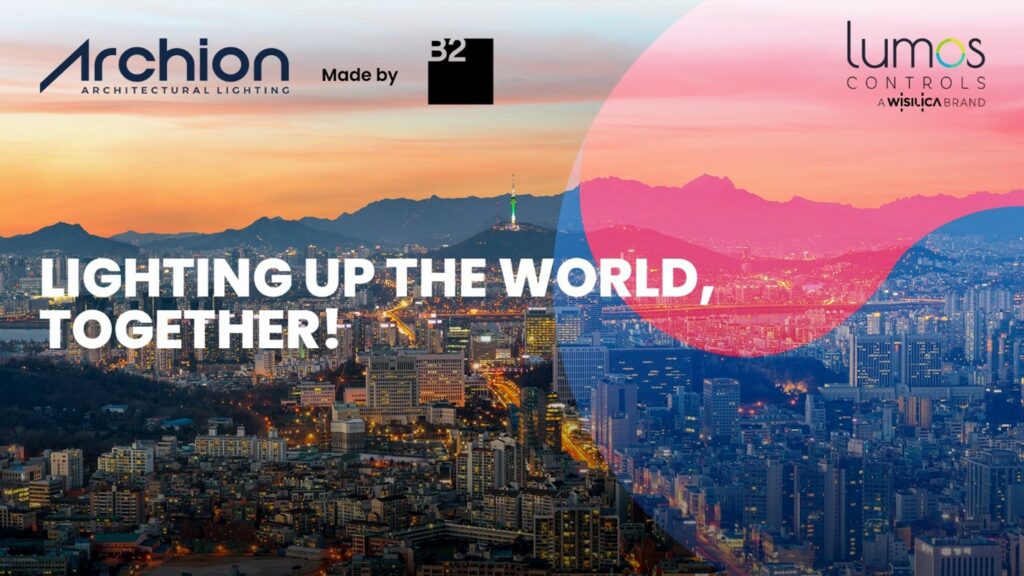 B2 will bring Lumos controls' top-of-the-line wireless lighting controls to simplify and enhance smart building projects in South Korea. 
Lake forest, California, January 17, 2023: Lumos Controls, the smart lighting control solution from WiSilica, is partnering with B2, a leading lighting management firm to promote and sell world's simplest lighting controls in the South Korea. This collaboration provides customers with a one-stop-shop solution for the region's new construction, remodels, and retrofit/energy upgrade projects. 
B2 is a leading lighting solution provider specialized in engineering design, delivery, and construction for lighting projects. Archion, the architectural lighting brand made by B2, is growing successfully as a unique international architectural lighting brand while meeting the expectations of both architects and lighting designers.
"This partnership marks a significant milestone in our expansion into the Asian market" said Vivek Pramod Senior Vice President & GM – Smart Controls, WiSilica. "We are confident that B2's long history of industry expertise and experience will help us to accomplish the mission of shaping a sustainable future" He added.
"At B2, we have always been committed to bringing the best and most advanced lighting control solutions that can make a real difference for our customers. That's why we are so excited to partner with Lumos Controls and we can't wait to see the positive impact that this partnership will have on the lighting industry" said Jae Hoon Yoon, CEO, B2.
About Lumos Controls
Lumos Controls is a smart controls solution from WiSilica, the leading IoT platform and solutions provider. Built on an IoT platform (ARIXA), this solution features the most advanced lighting control devices, intuitive interfaces, and versatile edge/cloud computing that are brought together to build an intelligent lighting network that's future-ready for smart enterprises. Lumos Controls is on a mission to unlock the extraordinary potential of light and give lighting controls a life of its own and beyond. 
About B2
B2 is founded by a group of passionate engineers from the lighting, electricity, and IT fields with a mutual objective called "Lighting Management". The company made its first big move by introducing a digital control lighting solution during a time when there was a shortage in the domestic lighting engineering market. Since then, B2 has completed numerous successful projects both overseas and domestically.
The domestic lighting engineering department contributed to the company's growth and development into a corporation. B2 now offers services including development, production, and construction, allowing them to build infrastructures for businesses and become a professional lighting company.
Media Contact:  
Lumos Controls
Gokul Ravindran
WiSilica Inc
20321 Lake Forest Dr. D6,
Lake Forest,
California 92630, USA. 
B2
James Suddrey
Overseas Division Team Leader
Phone: +82313441641
Address: 304, IS Biz Tower, 57-2, Heungan-daero 427, Dongan-gu, Anyang-si, Gyeonggi-Do, South Korea