Lumos Controls announces partnership with a leading lighting company in Spain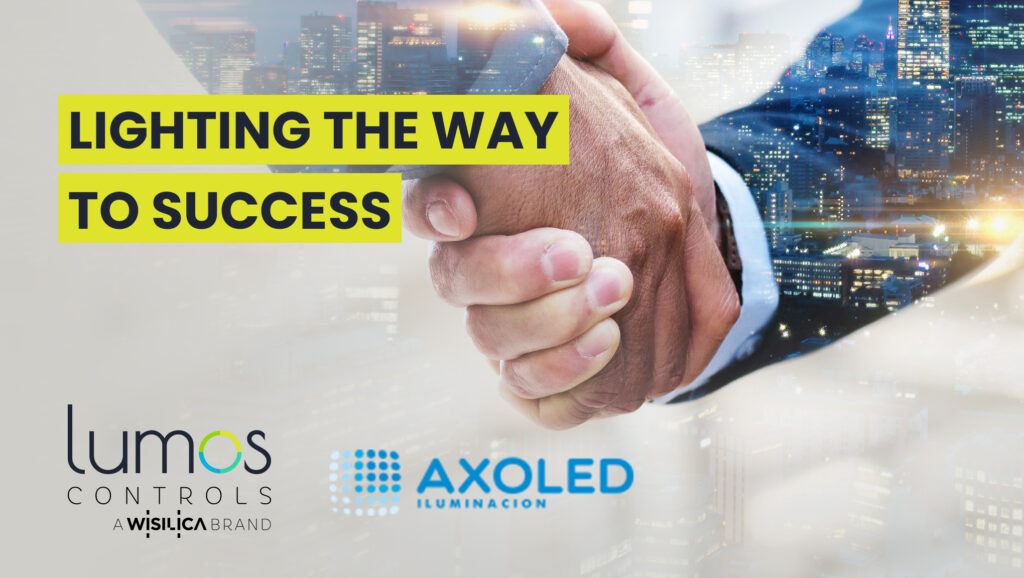 Lumos Controls and Axoled are all set to meet the demand for simple and efficient lighting controls solutions in the Spanish market.
Lake Forest, California, May 4 2023: Lumos Controls, the smart lighting control solution from WiSilica, is excited to announce their partnership with Axoled, a leading lighting company in Spain. Lumos Controls innovative line of wireless lighting controls can now have exclusive access to lighting community in Spanish region. At the same time, Axoled can offer customers a one-stop-shop solution for the region's new construction, remodels, and retrofit/energy upgrade projects. 
AXOLED specializes in designing, developing, manufacturing, and distributing a wide range of LED lighting solutions for professionals. With over 20 years of experience in the lighting, technology, and energy efficiency markets, the team of electrical and electronic engineers at AXOLED is dedicated to delivering top-notch products and services to its customers.
"AXOLED's solid reputation as a premium LED lighting equipment provider in Spain, with in-depth industry expertise and unparalleled customer service, makes them the perfect partner for our endeavors." said Vivek Pramod, Senior Vice President & GM – Smart Controls, WiSilica. "Together, we can cater to the growing demand for innovative lighting control solutions in a flourishing market" he added.
"We are excited to represent Lumos Controls, a company that consistently pushes boundaries and sets the standard for innovation in the lighting industry. Their extensive range of lighting control solutions perfectly complements our commitment to offering customers top-quality, highly functional products." said Carlos Ruiz Sanchez, Managing Director, Axoled.
About Lumos Controls
Lumos Controls is a smart controls solution from WiSilica, the leading IoT platform and solutions provider. Built on an IoT platform (ARIXA), this solution features the most advanced lighting control devices, intuitive interfaces, and versatile edge/cloud computing that are brought together to build an intelligent lighting network that's future-ready for smart enterprises. Lumos Controls is on a mission to unlock the extraordinary potential of light and give lighting controls a life of its own and beyond.  
For insights on lighting innovations, visit Lumos Controls resource page 
Media contact
Dikshik Pallathur
WiSilica Inc
20321 Lake Forest Dr. D6,
Lake Forest,
California 92630, USA.
About Axoled
Axoled is a Spanish company with more than two decades of experience in the field of low-energy lighting systems. The company specializes in designing, developing, manufacturing, and distributing LED and technical solar lighting products for professionals in the industrial, road, and tertiary sectors.
The company's team of electrical and electronic engineers offer expert advice and after-sales service to ensure that every installation achieves maximum efficiency.
At Axoled, customer satisfaction is of utmost importance, and the company's commitment to providing high-quality products and services has earned it a solid reputation in the industry.
Visit https://axoled.com/ for more information 
Media contact
Carlos Ruiz Sanchez
Axoled
Industrial Estate "Les Masses"
C/ Almansa, No. 3 Rotova
46725 Valencia (Spain)