Lumos Controls announces partnership with a leading lighting design specialist in Benelux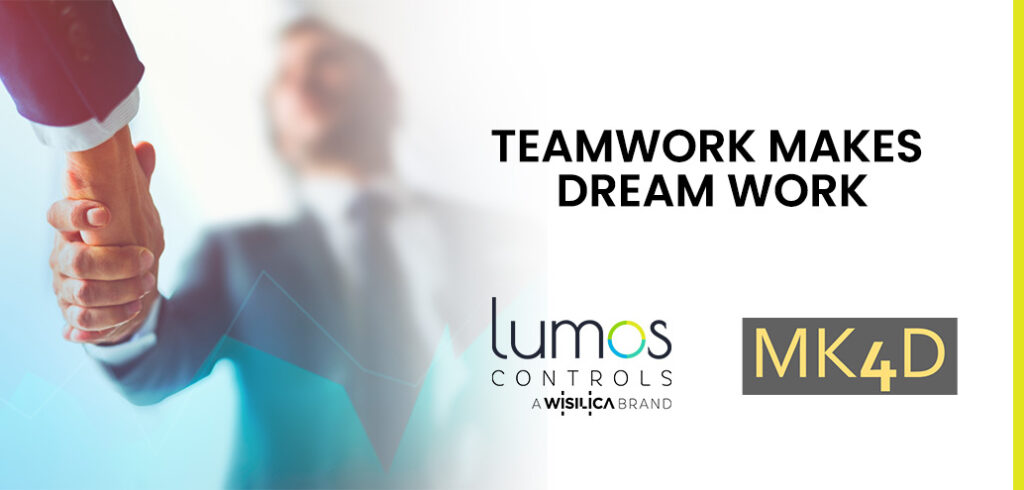 MK4D Lighting Design will represent Lumos Controls for lighting projects in Benelux
Laguna Hills, California, May 27, 2022: Lumos Controls, the smart lighting control solution from WiSilica, has announced MK4D Lighting Design as their exclusive partner for Benelux responsible for product promotion, technical support and distribution in Benelux. This partnership focuses on promoting Lumos controls wireless product options among Specifiers, Contractors, and Lighting manufacturers in Benelux.  
MK4D is a specialist in lighting advice for the project market with extensive experience in sales and installation of wireless, sustainable & dynamic lighting control solution.
"We recognized the value of MK4D and determined the incredible potential to expand our businesses together in the lighting market of Benelux. Their rich experience and in-depth knowledge regarding lighting controls will provide exceptional service to the lighting industry." said Vivek Pramod Senior Vice President & GM – Smart Controls, WiSilica. "They bring expertise and success to our journey as we continue to introduce advanced solutions to commercial and residential markets" he added.
"We are very excited to represent Lumos Controls. The company has a reputation for bringing innovative solutions to the market, and we look forward to working with them to introduce top-notch products to our customers." Said Marnix Kuling, CEO MK4D Lighting Design.
About Lumos Controls
Lumos Controls is a smart controls solution from WiSilica, the leading IoT platform and solutions provider. Built on an IoT platform (ARIXA), this solution features the most advanced lighting control devices, intuitive interfaces, and versatile edge/cloud computing that are brought together to build an intelligent lighting network that's future-ready for smart enterprises. Lumos Controls is on a mission to unlock the extraordinary potential of light and give lighting controls a life of its own and beyond.
About MK4D
MK4D is dedicated to providing the most effective lighting design solutions for various projects. They add value to the client's project through a deep understanding of how controlled light influences the occupant's experience and a wealth of expertise gained through years of experience.
Media Contact:
Gokul Ravindran
WiSilica Inc.
23282 Mill Creek Dr #340,
Laguna Hills,
CA 92653, USA