Netherlands' Smart Parking Garage: Struytse Hoeck's Modern Upgrade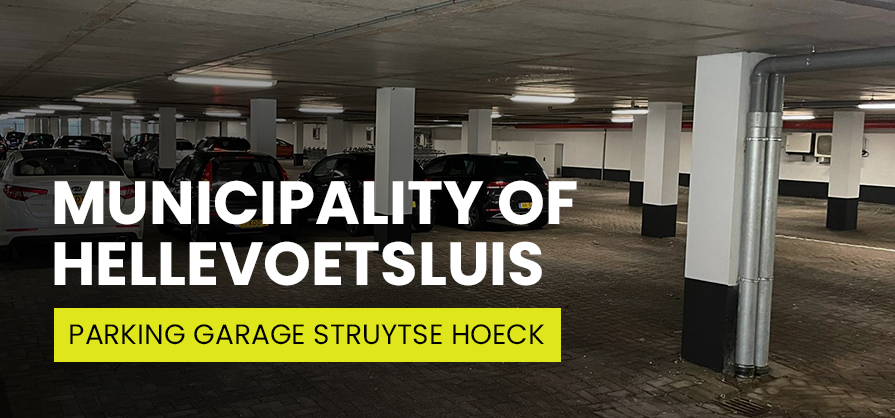 Background
In the Netherlands town of Hellevoetsluis, notable improvements have been made to enhance the urban experience for residents and visitors. A key project renovates the parking garage, 'Struytse Hoeck within the vibrant 'De Struytse Hoeck' commercial complex. The objective was to create a modern, well-lit, and comfortable parking facility. To achieve this, the municipality collaborated with Lumos Controls and MK4D, recognized experts in smart lighting solutions. Come, let's see how they transformed this parking garage and created a positive impact on the community.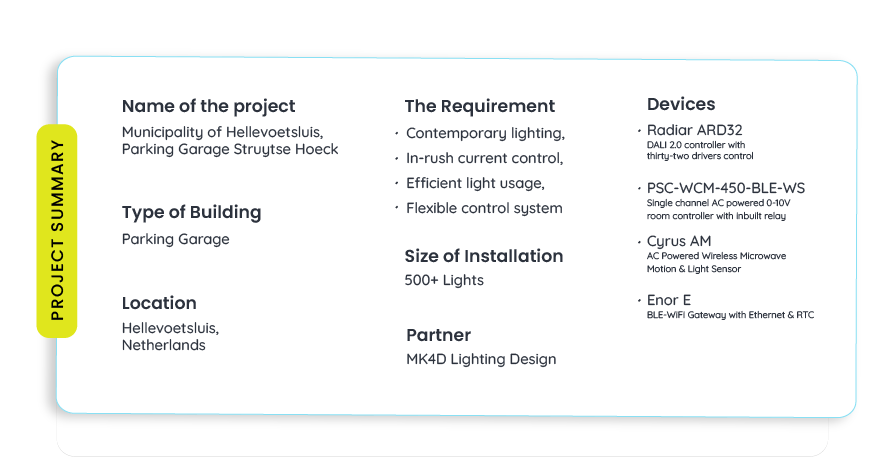 Objective
The objective was to create a modern, well-lit, and comfortable parking facility while controlling in-rush current by staggered lighting activation, optimizing light usage through occupancy sensing, and implementing a more flexible control system to manage the extensive lighting across the vast parking area. This approach aimed to enhance safety and security through automated lighting, while also embracing sustainability features, including energy-efficient lighting considerations.
Challenges
In the course of this project, we encountered several notable challenges. The foremost among them was ensuring that a range of diverse devices could work harmoniously together. Secondly, we had the task of fitting all these devices into a compact box, much like solving a complex puzzle within a small space. But that wasn't all. We also had a crucial condition: the installation process had to be straightforward and speedy, making life simpler for their team down the line.
Solutions
To address the project's challenges, we used Lumos Controls DALI controllers, Radiar ARD32, to turn on fixtures with a preset delay. This delay was achieved through a combination of a 0-10V Load Controller, PSC-WCM-450-BLE-WS and a Finder timer, all neatly housed inside a ready-to-install MK4D junction boxes. The Load Controller powered the fixtures with a delay set by the timer, meanwhile, DALI Controllers were employed for dimming and automation based on motion sensing to save energy.  
We also integrated Microwave Motion Sensors, Cyrus AM, onto the box, detecting nearby motion to trigger DALI devices via the controllers. To enhance the system further, we utilized the Enor E enterprise gateway, enabling cloud connectivity for our smart lighting network.
Result
The project delivered outstanding results by smartening up over 500+ parking lights, achieving substantial energy savings through motion sensing technology. This innovative approach not only led to substantial energy savings but also efficiently managed in-rush current, extending the lifespan of the devices.
Moreover, the pre-installation boxes proved to be a game-changer, significantly simplifying the lighting installation process. They eliminated the need for extensive labor, making lighting projects swift and effortless, ultimately saving valuable time and effort.