Sai Gon Bin An Hotel Case Study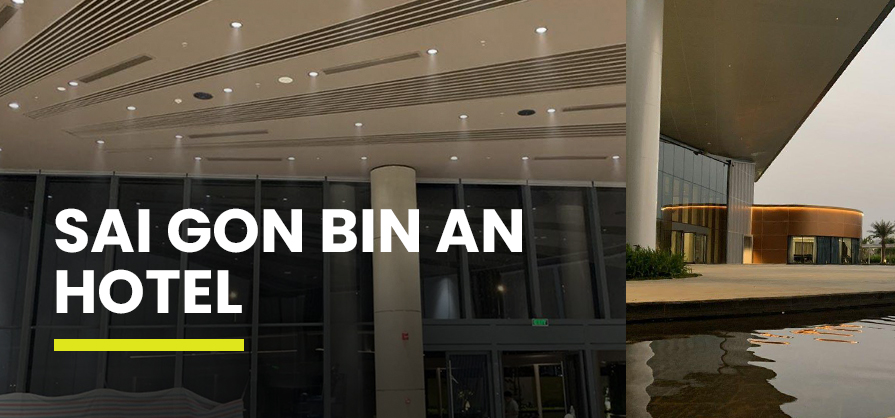 Background 
Sai Gon Bin An Hotel is a prestigious hotel located in the heart of the bustling city of Ho Chi Minh City, Vietnam. Known for its luxurious amenities and impeccable services, the hotel frequently hosts a wide range of events and functions in its elegant ballroom, catering to various requirements from corporate conferences to lavish events.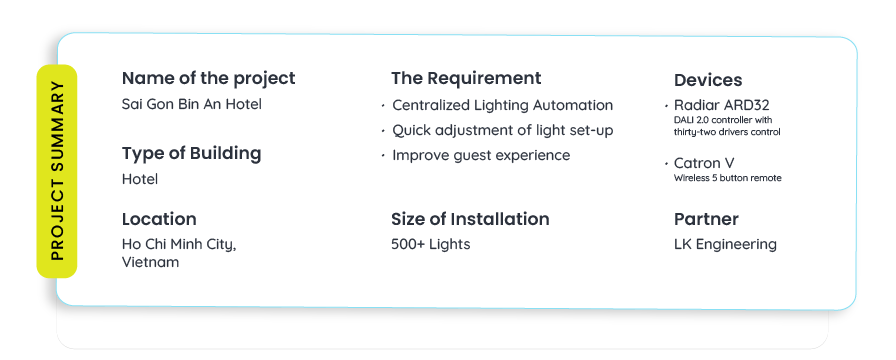 Objective  
The hotel management recognized the importance of having a versatile lighting control system in their ballroom. They sought a solution that would provide complete control over the ballroom's lighting, allowing for easy and quick adjustment of lighting setups to accommodate the diverse needs of different events. The hotel management aimed to enhance the overall experience for guests, organizers, and performers while streamlining the logistical aspects of event planning. 
Solution
Sai Gon Bin An Hotel engaged LK Engineering, a reputable engineering firm specializing in innovative solutions for the hospitality industry. Upon careful assessment of the hotel's requirements, LK Engineering recommended Lumos Controls, a state-of-the-art lighting control system known for its simplicity, efficiency, and adaptability. 
Key Component
32 DALI Driver Room Controllers (Radiar ARD 32): These controllers allowed precise control over individual lights in the ballroom. The DALI (Digital Addressable Lighting Interface) technology enabled seamless communication with the lighting fixtures, offering granular control and flexibility.
Five-button Remote (Catron V): The 5-button remote-control device allowed the hotel staff to prepare the lighting setup in advance. The intuitive interface and convenient buttons allowed quick adjustments to the lighting scheme during events, minimizing any disruption. 
Challenges
Previously, Sai Gon Bin An Hotel had to engage external lighting management teams for events, leading to increased costs, coordination complexities, and potential inconsistencies in event ambiance. The challenge is to reduce dependency on third parties and develop an in-house solution that empowers the hotel staff to create tailored lighting experiences.
Also, The hotel hosts a diverse range of events – from events to corporate conferences. Each event demands a unique lighting setup that complements its theme and objectives. The challenge is to establish a system that allows quick and efficient adjustments to lighting configurations, ensuring that every event's atmosphere aligns with the desired mood. 
Result
The ballroom's lighting system demonstrated an impeccable blend of precision and flexibility, exuding an enchanting ambiance that elevated during events. Complementing this excellence was the indispensable 5-button remote, a pivotal tool that streamlined event planning and facilitated seamless transitions between setups. Lumos Controls, the mastermind behind this orchestration of light, not only enhanced the guest experience but also optimized efficiency, cementing the hotel's reputation as the premier choice for a diverse array of events 
About Lumos Controls  
Lumos Controls is the world's simplest smart lighting control that allows you to create exceptional lighting experiences for smart enterprises. The ecosystem features controllers, sensors, switches, gateways, mobile and web apps to set up basic to advanced smart controls. Lumos Controls offers you the freedom to decide what to achieve and how to grow and step into a sustainable future. 
Connect with our Lighting Control Experts Now!