Smart Lighting Scenes: Everything you should know?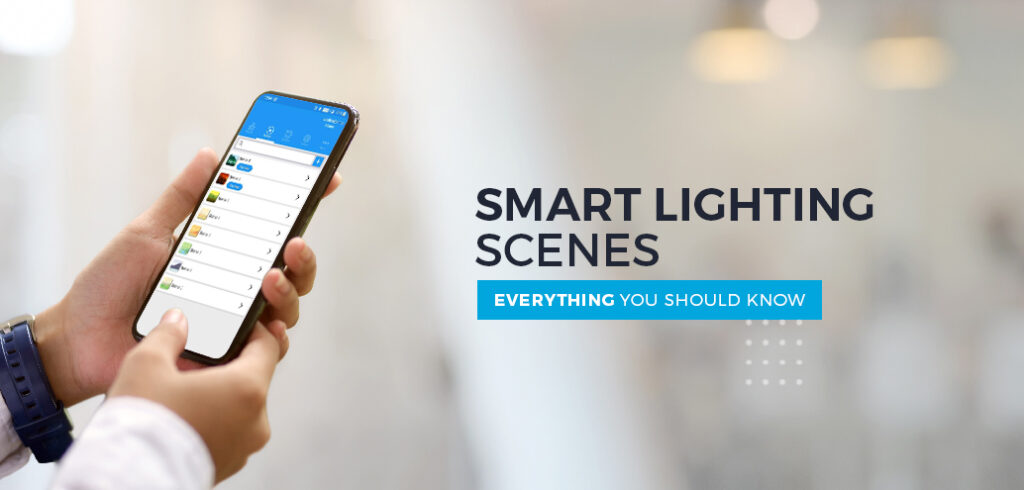 Lighting should make moments perfect, enhance comfort, and perfectly fits with lifestyle. But how to achieve all these? It is possible with smart lighting features and strategies. These features not only create a personalized experience but make the network energy efficient.  
In this blog, let us discuss the SCENE, an exciting feature of smart lighting.
What is a Scene?
A scene is a light setting configured and activated for pre-set schedules or responses. The scene creates a lighting experience suitable for various requirements, moods, and activities like parties, dinner, reading time, and more. After configuring a scene, it can be activated with a touch screen, smartphone, remote, voice, Alexa, or Google Home. Scene control can be used to light up a space based on the occupancy or vacancy detection, ambient light availability or schedules.
Advantages of Scene
For scenes, light devices should be integrated into a control system. This allows multiple lights in different spaces to operate with a single command, creating a perfect ambience as per one's choice. Scene settings enable users to ON/OFF, change intensity and color temperature of devices. Based on temperature settings and security systems, lighting scenes can be incorporated.
How does the lighting scene work?
After setting a scene, users can invoke the desired color temperature, intensity, or ON/OFF devices. When a scene schedule is invoked, the light device will create multiple scenes as per command.
Benefits of Scene Management
Activates light only when required:
As mentioned earlier, scenes and schedules will allow users to create lighting experiences for various requirements. At the workplace, users can create a schedule that suits work hours, shifts, or breaks. By setting a schedule to turn ON, dim, or OFF at a specific time, users can ensure effective utilization of energy besides increasing the lifespan of devices.
Create light based on available daylight:
Create scene rules to illuminate the devices by detecting the available natural light using a light sensor.
Increases security:
Create scene rules to detect motion and trigger a scene for a specific period. Using the scene, users can identify unusual movements and alarm the security to take necessary actions.
Creates proper ambience:
Scenes are known for the ambience it can create, and it will be useful for various occasions. Users can set scenes for presentations, business meetings, office parties and more.
Individual control:
Scenes allow individuals to create personalized lighting that suits their task and requirement, playing a pivotal role in improving productivity and wellbeing.
Controls light with your voice:
Convenience! Scenes can be activated using voice controls, including Alexa or Google Home.
Increased productivity and wellbeing:
Lighting affects mood and health; this clearly states the importance of light; be it natural or artificial. In an indoor set-up, a scene can produce the right amount of light that suits the circadian rhythm, allowing users to stay energetic throughout the day. This results in increased productivity and energy level.
In conclusion,
Lighting solutions with features like scenes are gaining attention from enterprises around the globe. Increased user-experience, productivity, and wellbeing make lighting controls exciting and useful. The convenience of automation and aesthetics of light settings make smart scenes beneficial.
Disclaimer: The original version of the blog was published in WiSilica.com