Why Niagara Framework for Lighting Control Integration to BMS?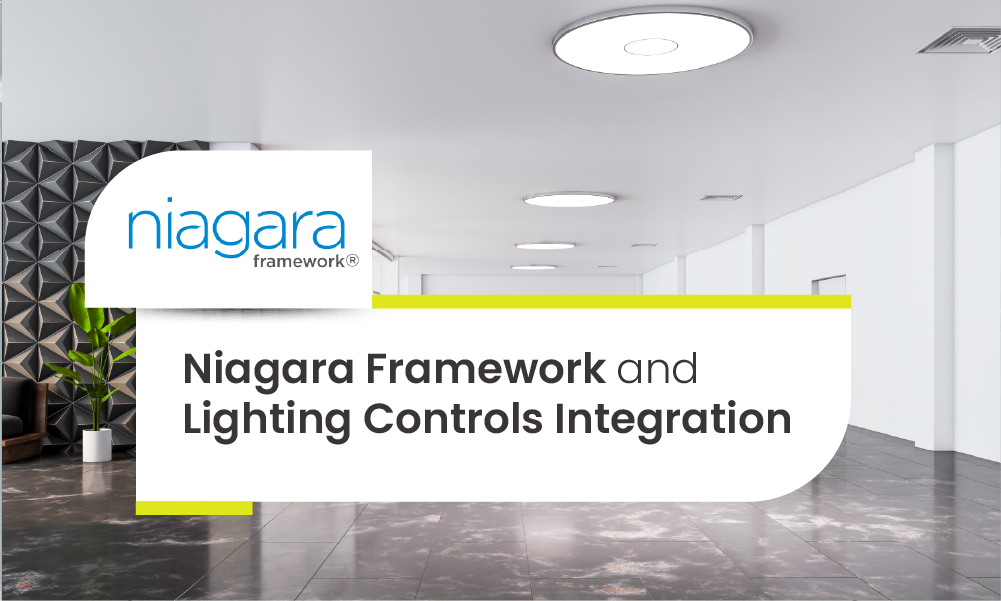 Our previous blog explained why integrating Building Management Systems and Lighting Controls is important. As you know integrating building management systems with lighting controls brings numerous benefits like improved operational efficiency, reduced energy consumption, and meeting sustainability goals efficiently. However, choosing a platform to connect and normalise diverse components into a single system is essential. At Lumos Controls, we leverage the Niagara framework to integrate with any popular BMS protocols. This blog answers why we chose Niagara framework for BMS integration.
In this blog, we will explain:
What is Niagara Framework?
Why Niagara Framework for Building Management System?
How does Lumos Controls BMS integration work?
What is Niagara Framework?
Tridium Niagara® is a powerful software platform that enables building automation and control. It provides a seamless way for different systems and devices to communicate and work together, regardless of their manufacturer or communication protocol. From HVAC and lighting to security and energy management, Niagara Framework® makes it easy to monitor and control every aspect of a building's automation systems from a single interface.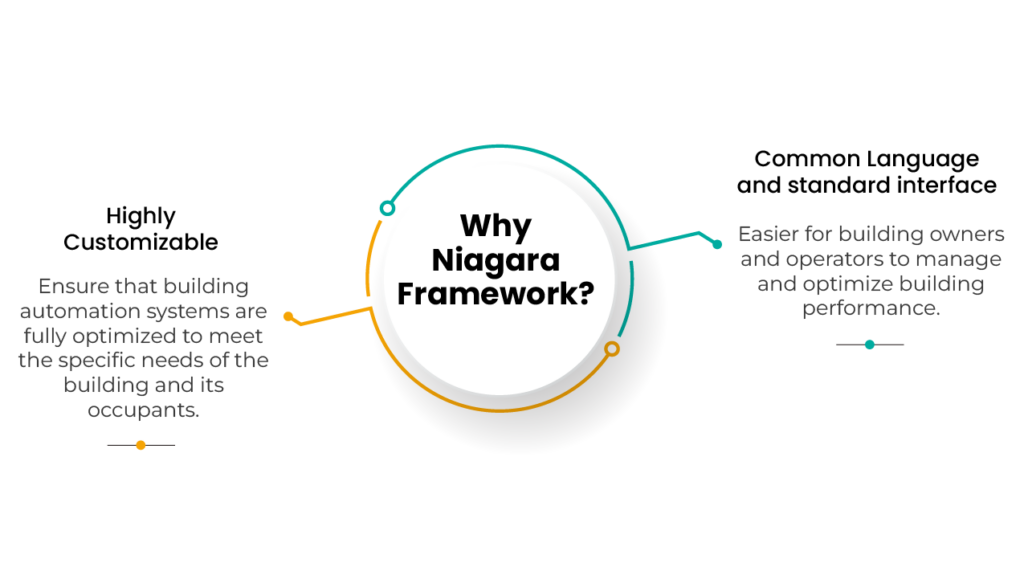 Why Niagara Framework is the Ultimate Choice for Lighting Control Integration to BMS?
We have identified Niagara Framework as a powerful software platform that provides a unified approach to building automation and control.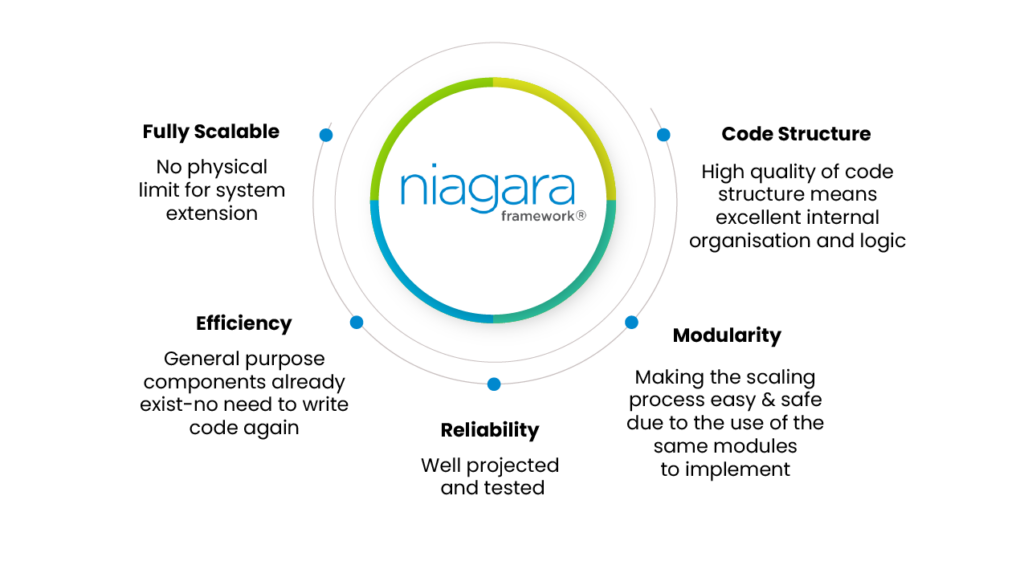 Reduce the Complexity of Managing Multiple Systems
We make use of the open architecture of the Niagara framework to create intelligent buildings that seamlessly integrate lighting with the building management system.
Highly Scalable
Our scalable solution uses Niagra Framework, which has no physical limit for the system extension. You can be confident that your system will always keep up with the growing needs.
Building as a Group of Integrated/Interdependent Systems
Smart buildings integrate various systems, and compatibility is not a worry for us. We utilize the Niagara framework, which can easily integrate into any popular BMS protocol.
A comprehensive View of Building Data
You can gather data from connected devices which can aid in decision-making around energy usage and maintenance needs.
Real-time Insight to Optimize Operations
Effortlessly control building systems like HVAC, lighting, and security. For example, BMS can make use our smart sensors to dim lights based on occupancy levels, grant access to specific building areas or slightly slow down elevators and escalators during off-peak hours.

How does Lumos Controls BMS Integration Work?
The integration process involves connecting the Lumos Controls system to the Niagara platform, which serves as a central hub for managing all building systems. Once integrated, the Lumos Controls system can communicate with other BMS systems, allowing seamless co-ordination between different systems.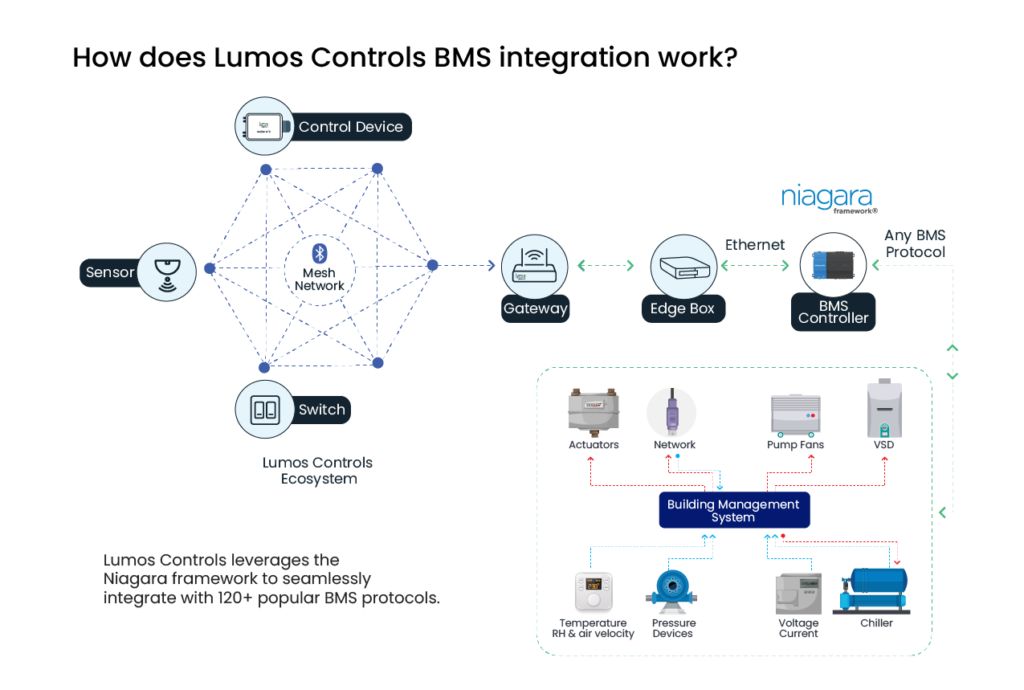 In Conclusion,
Lumos Controls, offers a comprehensive solution for better building management systems integration. With the Niagara Framework's numerous features and benefits, including customisable applications, open standard architecture, and centralised control, building managers can achieve their energy efficiency and sustainability goals with ease.
Interested in knowing how Lumos Controls BMS integration works? Stay tuned!!