DALI Lighting Controls: Basics and Beyond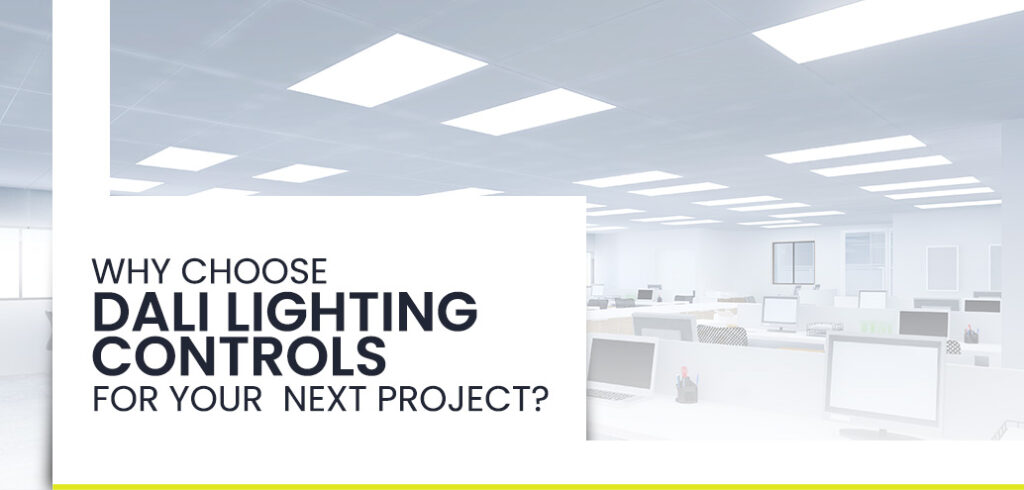 Designers and architects primarily focus on aesthetics, function, and efficiency, right? Choosing the technology, products, and solution provider is a crucial factor in meeting these requirements. When it comes to a lighting control technology, DALI-based solutions help you meet aesthetics, function, and efficiency more effortlessly than you imagine!
This blog will help you understand :
DALI Lighting Control System Basics
How DALI Dimming Works?
DALI Vs 0-10V- A Smart Comparison
DALI Wiring Basics
DALI 2.0
What is a DALI Lighting Control System?
Digital addressable lighting interface (DALI) is a two way communication protocol used to control and communicate with the entire lighting system. IEC60929, which dates back to the late 1990s, defines DALI. It has undergone significant changes since then and the current version is DALI-2, described in IEC62386.
Now, let us see what makes DALI special.
To know it in detail, please read our DALI ebook.
Key Features of DALI
Highly Interoperable: An open protocol that mandates certification procedures. DALI-2 is highly interoperable, any manufacturer can use it.
Easy and Simple Installation: DALI avoids extra cost and inconvenience of additional wiring, assuring easy reconfiguration of lighting networks.
Smooth Dimming: Logarithmic dimming ensures smooth intensity transitions and a flicker-free experience.
Maximum Flexibility: Since every component in the system has a different address, there are many options for flexible control.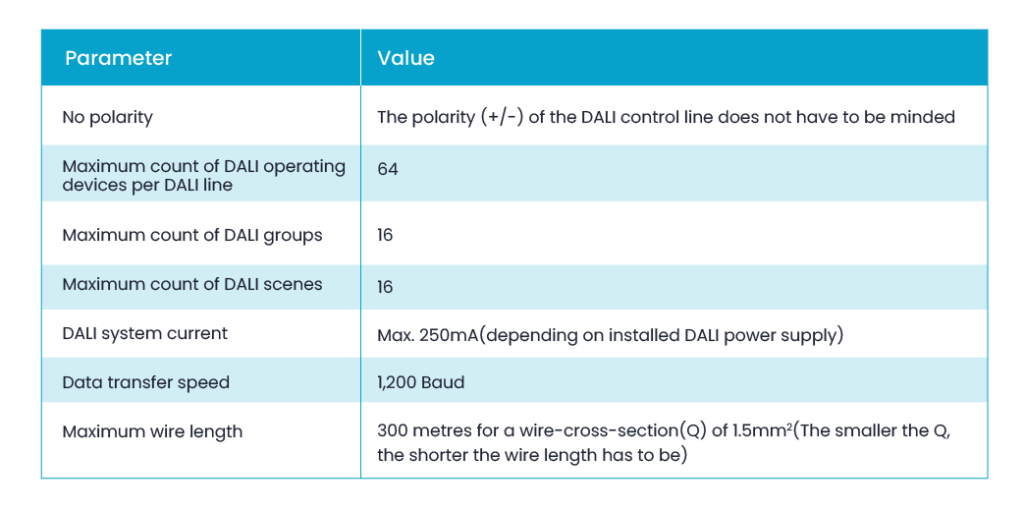 As we have covered all the basics, now it is time to compare!
DALI Vs. 0-10V: A Smart Comparison
DALI is incredibly flexible and enables the creation of many groups which can be controlled independently with simple wiring. The main differences between DALI and 0-10V are:
DALI is addressable:
This makes room for several beneficial features, including grouping, scene- setting, and dynamic control. DALI can manage color control, color changing, emergency lighting testing and feedback, complex scene-setting and many other lighting-specific functions.
0-10V can only control switching ON/OFF and simple dimming.
DALI is digital, not analogue:
DALI can therefore provide far more accurate light level control and reliable dimming.
0-10V is analog and the lighting changes is in response to voltage.
DALI is a standard:
Equipment from various manufacturers can work together. It offers more precise light level control and more consistent dimming.
The 0-10V dimming has never been standardized. Using multiple driver manufacturers on the same dimming channel could result in highly unpredictable results.
In a nutshell:

A Quick Glance at DALI Wiring
DALI lighting system consists of a controller, power supply, and one or more slave devices with DALI interfaces to control light intensity, CCT, and color. The DALI systems address individual or multiple fixtures via multicast and broadband messages. It can be arranged in a bus or star topology or a combination of both and reduce multiple wiring demands and expenditures. It's a bi-directional system, that enables the controller to monitor and control each device for troubleshooting.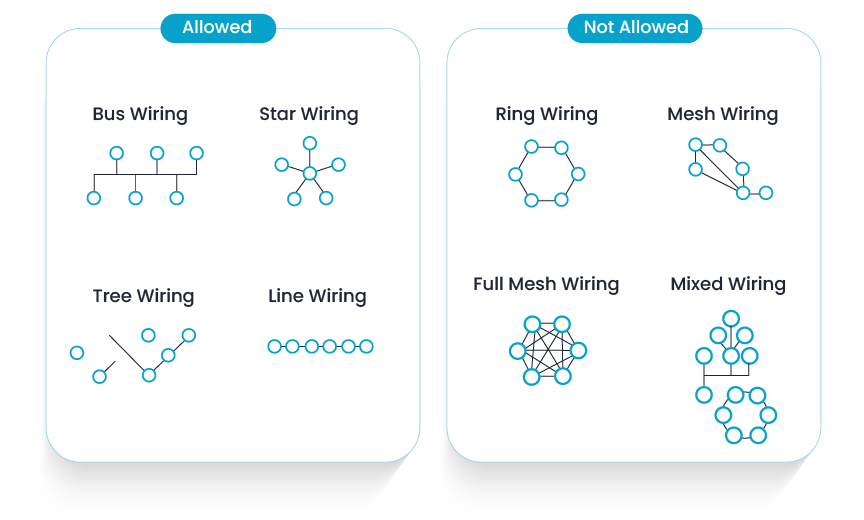 Want to learn more about lighting control protocols? Click here!
How DALI Works?
The primary component of DALI is a bus made up of two wires used to transmit digital control signals from sensors and other input devices to an application controller. The application controller applies the programmed rules to generate outgoing signals for devices like LED drivers.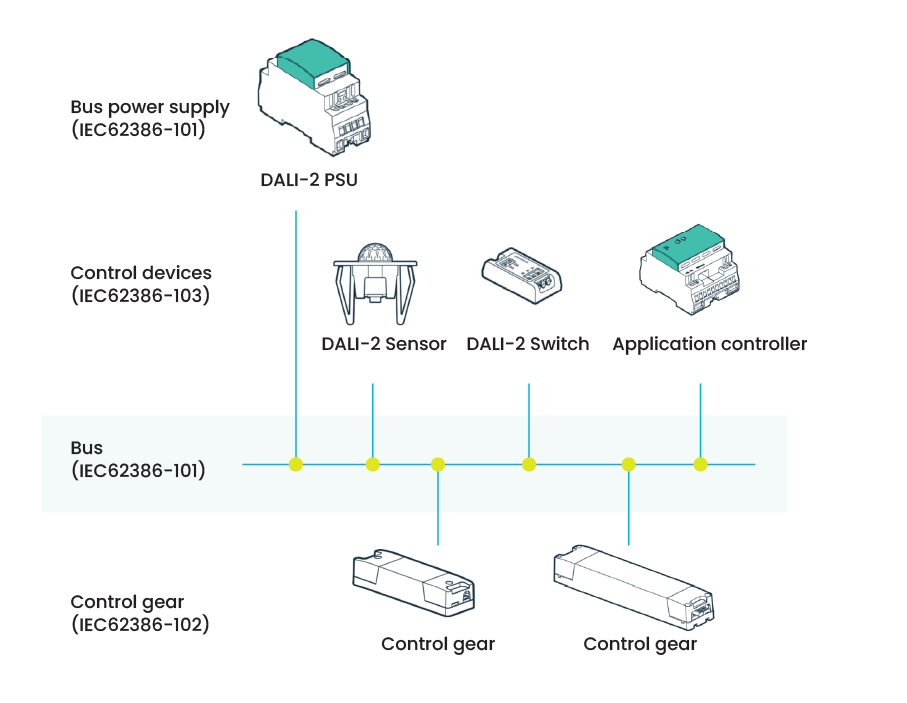 The latest version : DALI 2
The latest version of DALI protocol is known as DALI-2 and:
Has a lot of new commands and functionalities
Includes bus power supply and control devices such as application controllers and input devices (like sensors)
Guarantees certification to ensure the interoperability of products from various suppliers
To know more about DALI, its function and how we provide DALI based solution. Click here
To wrap it up
Now, as you know the ins and outs of both these technologies, you can pick the right technology per your project requirements. If you feel confused or worried about choosing the right one, we are always happy to help!
Please feel free to get in touch with us! We can help!