DALI Lighting Controls: A Deep Dive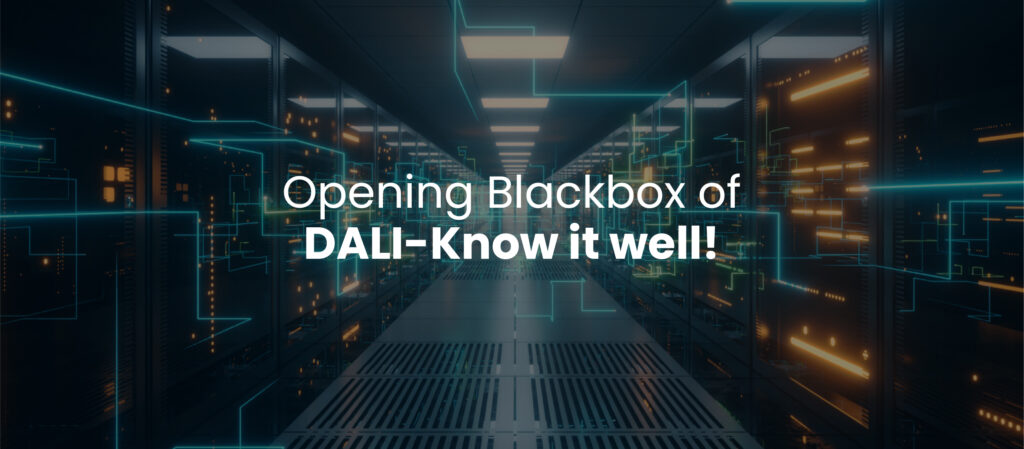 We are more focused on a sustainable future, and energy-efficient buildings are the need of the hour. However, we must not just think about energy efficiency, as comfort and convenience are equally important. This is where DALI lighting controls comes into the picture.
If you are looking for the basic information on DALI, we have a separate blog which discusses the basics of DALI. You can read it here.
This blog is a deep dive into the world of DALI lighting controls and you will learn:
DALI: What & Why
Operations and Data Structure
Why Lumos Controls DALI solutions
Let us get into the details.
What can DALI do?
DALI, or Digital Addressable Lighting Interface, is a dedicated protocol for digital lighting control that which can be used to create robust, scalable, and flexible lighting networks. Do you wonder how DALI makes it a reality, read our blog on DALI and interoperability here.
DALI is a two-way communication protocol that is specifically built for lighting. IEC60929, which dates back to the late 1990s, defines DALI. It has undergone significant changes since then, and the current version is DALI-2, described in IEC62386.
Undoubtedly, DALI is a perfect choice! Wondering why? Read on to get the answer.
Why choose DALI / DALI-2?
DALI is an international standard that ensures seamless integration and interoperability. It is a cost-effective, flexible, and future-proof solution. This gives the customer greater freedom of choice.
Now that you have an in-depth understanding of why DALI is an ideal solution for your next project let's move on to how it functions.
Learn DALI 2 and DALI certification in detail.
DALI Lighting System
DALI lighting systems feature a master-slave architecture in which the controller serves as the information hub or brain. The luminaires serve as the slave components. The slave units execute commands from the control or answer information requests, such as confirming the unit's functionality.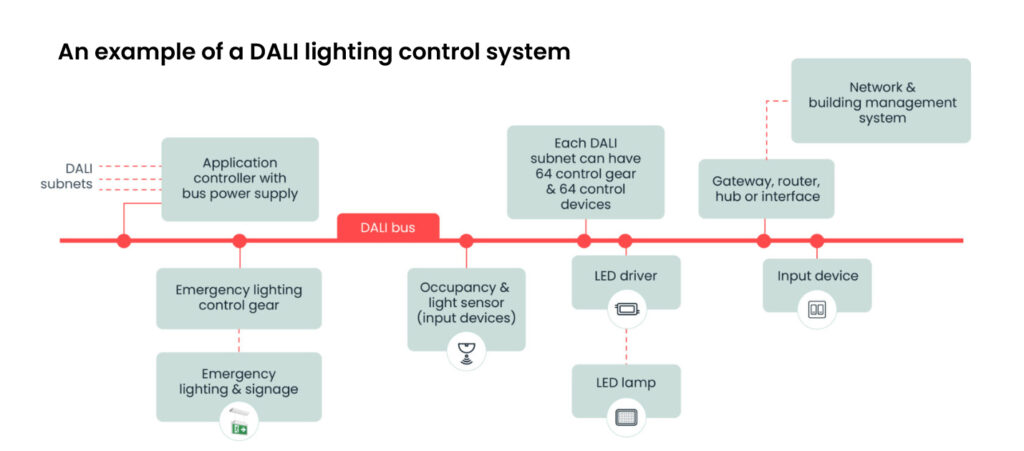 The DALI system is connected to a network consisting of controllers, DALI LED drivers and luminaires. Each device is assigned a unique address enabling DALI to operate individually, and the driver regulates the voltage and prevents overload.
The control unit sends instructions to addresses after receiving a command. Depending upon the instruction, the lights will be turned ON/OFF individually or as a group. It also enables operating the entire lighting network from a single control point.
Since the system enables bidirectional communication, the devices provide information back to the central control point, making troubleshooting easier.
As you know, a DALI controller can send different commands to a fixture. The below-given image explains DALI Data Structure.

A DALI controller will send a data packet to make the required changes. If not a broadcast message, the first part of the packet is the short address of the fixture. The second is the command type, and the final is the value, which is not always required.
You might be a bit curious to know about the different DALI commands. Aren't you?
Four standard addressing modes are employed while adjusting ballast/device levels.
These are:
Broadcast: The message can be sent to all devices with a given value. e.g., Broadcast 50%
Channel – Individual control over the 64 separate devices (Values: 0% to 100%) e.g. Channel 32 @ 100%
Group – Each device can be categorized into 16 groups, and the device can be assigned to more than one group, e.g., Group 10 @95%
Scene – Each device can store up to 16 scenes that can be controlled via a single command, e.g., Scene 2 Go.
We have discussed DALI and how it functions in detail. Now we will explain how our DALI-based solution helps you meet your various requirements.
We offer DALI controllers to create exceptional lighting experiences. You can easily set up an intelligent lighting network with smart sensors, switches, gateways, and analytical dashboards.
Our intuitive Mobile App enables easy commissioning and configuration of the entire lighting network.
After installation, you can quickly set up an automated and secured lighting network in a few clicks, be it a larger or smaller installation. You can redefine lighting experiences and improve productivity like never before. The functions and features guarantee improved performance, more intuitive controls, and streamlined automation.
Smarter Energy Management
Save more on energy bills through the easy implementation of lighting control strategies. Get reports of energy usage, device usage and space utilization for building management.
Seamless Integration with BMS
Integrate your lighting with building management systems and manage lighting networks remotely.
Exceptional Flexibility
For lighting upgrades, DALI doesn't require extra wiring, using the software can reprogram the lighting systems. You can multiple lighting functions and moods can be created and optimized.
Design for wellness
Our DALI system can make lighting in sync with circadian rhythm. You can bring a perfect balance between comfort and efficiency through lighting automation.
Always Stay Up-to-date
Always remain up-to-date with over-the-air updates. All it needs is a few clicks and a couple of minutes.
Conclusion
Now, you have an in-depth understanding of DALI lighting protocol and our DALI devices. You might know why DALI is an ideal choice for your next project. DALI enables accurate, flexible, and standardized control of dimming. If you want to know more about our DALI controllers, click here.