Lightfair 2023: Lumos Controls showcase its award-winning lighting control ecosystem with AI video analytics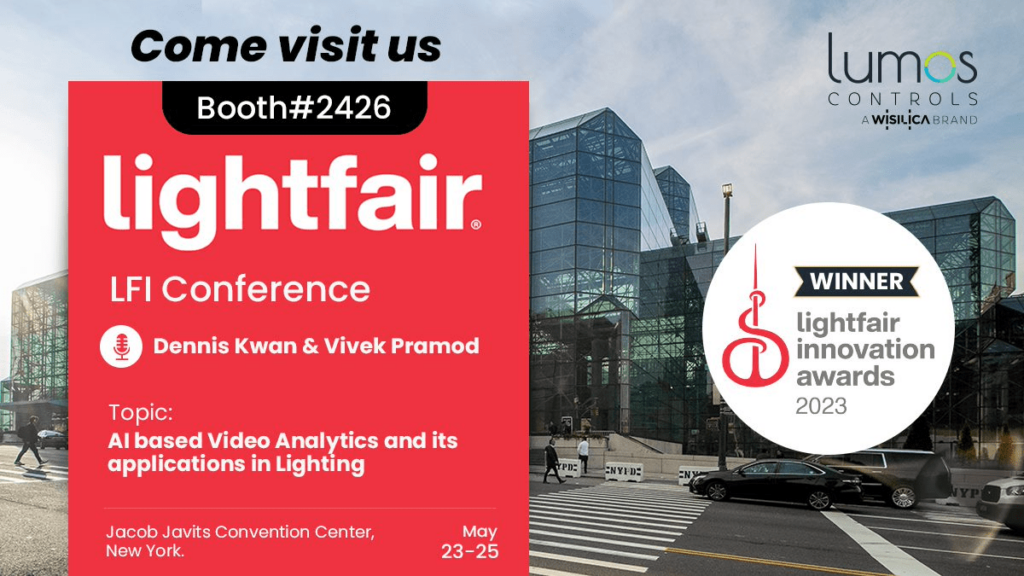 Lumos Controls intelligent lighting solutions will be on display from 23-25 May 2023 at the Javits Convention Center, booth #2464, in New York City
California , May 19, 2023: Lumos Controls, the smart lighting control ecosystem from WiSilica, is exhibiting its versatile product portfolio and its latest award-winning control enabling technology at Lightfair 2023 in New York from May 23-25.
Lightfair is the most awaited architectural and commercial lighting event for those looking for the latest trends and innovations in lighting, and Lumos Controls is thrilled to introduce its latest Intelligent Lighting Control solutions with AI-Based Video Analytics, which has received industry recognition for its innovative approach.
Lumos Controls President & CTO, Dennis Kwan, and Senior Vice President & GM, Vivek Pramod, will be speaking on May 23, 2023, at 3:00 PM, to share insights on AI-based Video Analytics and its Applications in Lighting.
"We are excited to participate in LightFair 2023 and honored to be recognized for Best in Control Enabling Technology," said Vivek Pramod, Senior Vice President & GM – Smart Controls. "This award solidifies Lumos Controls growing reputation as a leader in the lighting controls industry. We look forward to speaking firsthand to attendees about our latest innovations, product portfolio, smart emergency solutions, and how we integrate lighting controls with BMS to make buildings smarter and more efficient for our customers," he added.
Visitors can meet Lumos Controls lighting experts at the venue to discuss the smart lighting possibilities and get to know the portfolio of lighting control devices better.
Book your appointment now
About Lumos Controls
Lumos Controls is a smart controls solution from WiSilica, the leading IoT platform and solutions provider. Built on an IoT platform (ARIXA), this solution features the most advanced lighting control devices, intuitive interfaces, and versatile edge/cloud computing that are brought together to build an intelligent lighting network that's future-ready for smart enterprises. Lumos Controls is on a mission to unlock the extraordinary potential of light and give lighting controls a life of its own and beyond.
Media contact
Dikshik Pallathur   
WiSilica Inc
20321 Lake Forest Dr. D6,
Lake Forest,
California 92630, USA.