Wireless Switch Interface Device: The Easy Way to Make Any Conventional Switch Smarter!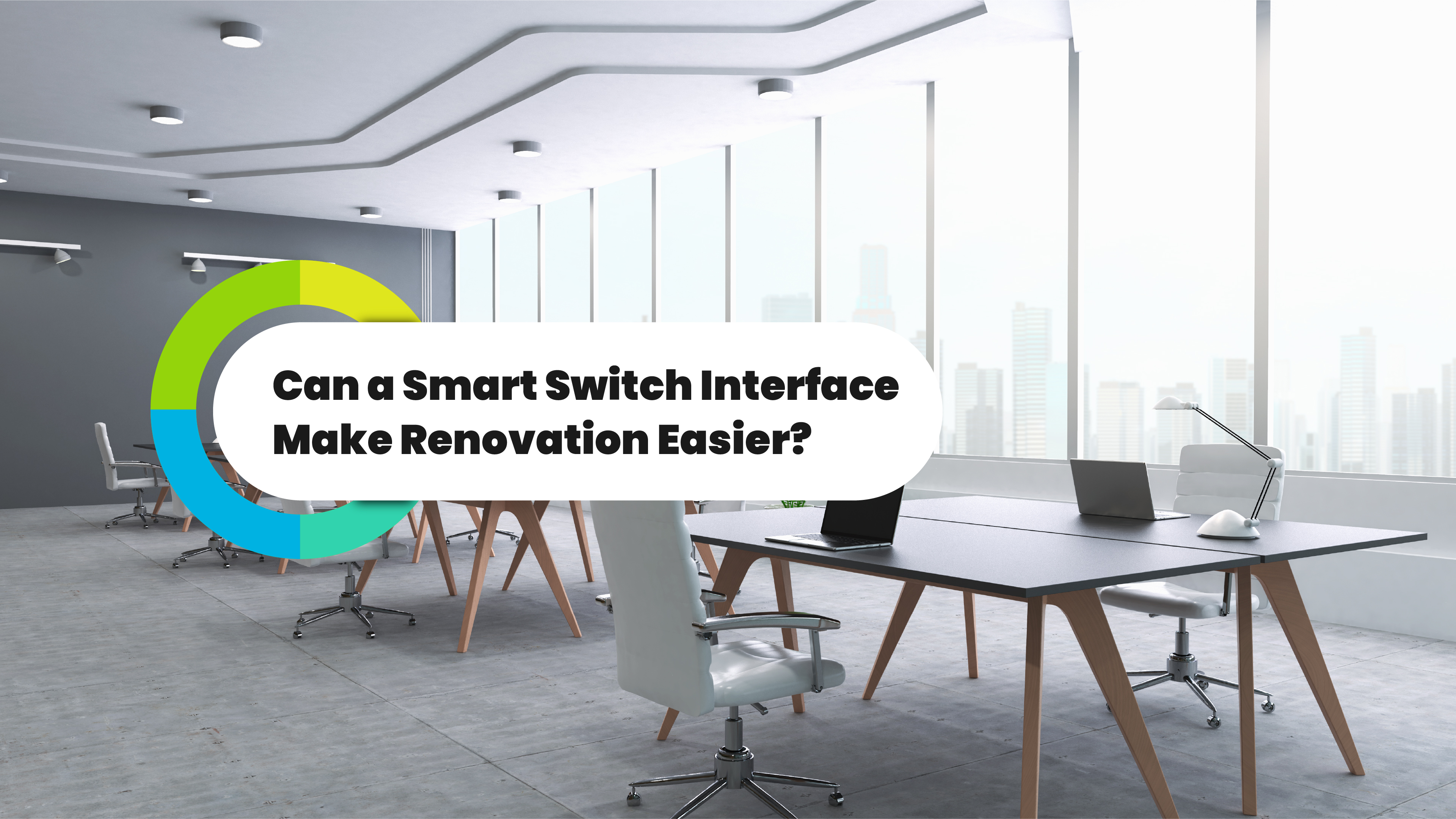 Are you looking to upgrade the lighting system but dreading the thought of replacing all your switches?
Imagine being able to make  existing switches smarter without having to replace them. Sounds too good to be true, right? But it's not. With the help of wireless switch interface devices or push-button interfaces, you can upgrade your lighting system in no time without the need for complex wiring or extensive construction work. It can save you time, money, and hassle. 
Let us show you how you can do the same for your building and take the step towards a more efficient, convenient, and cost-effective lighting solution.
What Is A Smart/Wireless Switch Interface?
A wireless switch interface device makes any switch smarter. It can be attached to your existing switch, allowing you to remotely control devices. With a smart switch interface, you can upgrade your existing switches without the need for complex wiring.  
Lumos Controls Catron AI is an example for wireless switch interface. 
Catron AI can:
Make any switch  smarter  
Connect up to 4-toggle or push-button and rotary switches  
Compact form factor for easy and clean integration within a junction box 
Easily integrates into existing building automation systems by taking input from any dry contact or volt-free contacts 
Provision for custom configuration of switches using Lumos Controls Mobile App 
One of our clients, based in France, doesn't want to damage their walls or replace existing switches. As a solution, we recommended the use of the Catron AI- AC Powered Switch Interface for Push Button, Toggle, and Rotary Switches.
It allowed the client to upgrade their lighting system without having to replace their existing switches or make significant modifications to their walls. This saved time and money compared to other solutions that would have required more extensive installation work.
The switch interface has provided the client with additional control options, such as the ability to dim the lights or program them to turn on and off automatically. This improves the functionality and convenience of the lighting system for the client.
How does Catron AI function?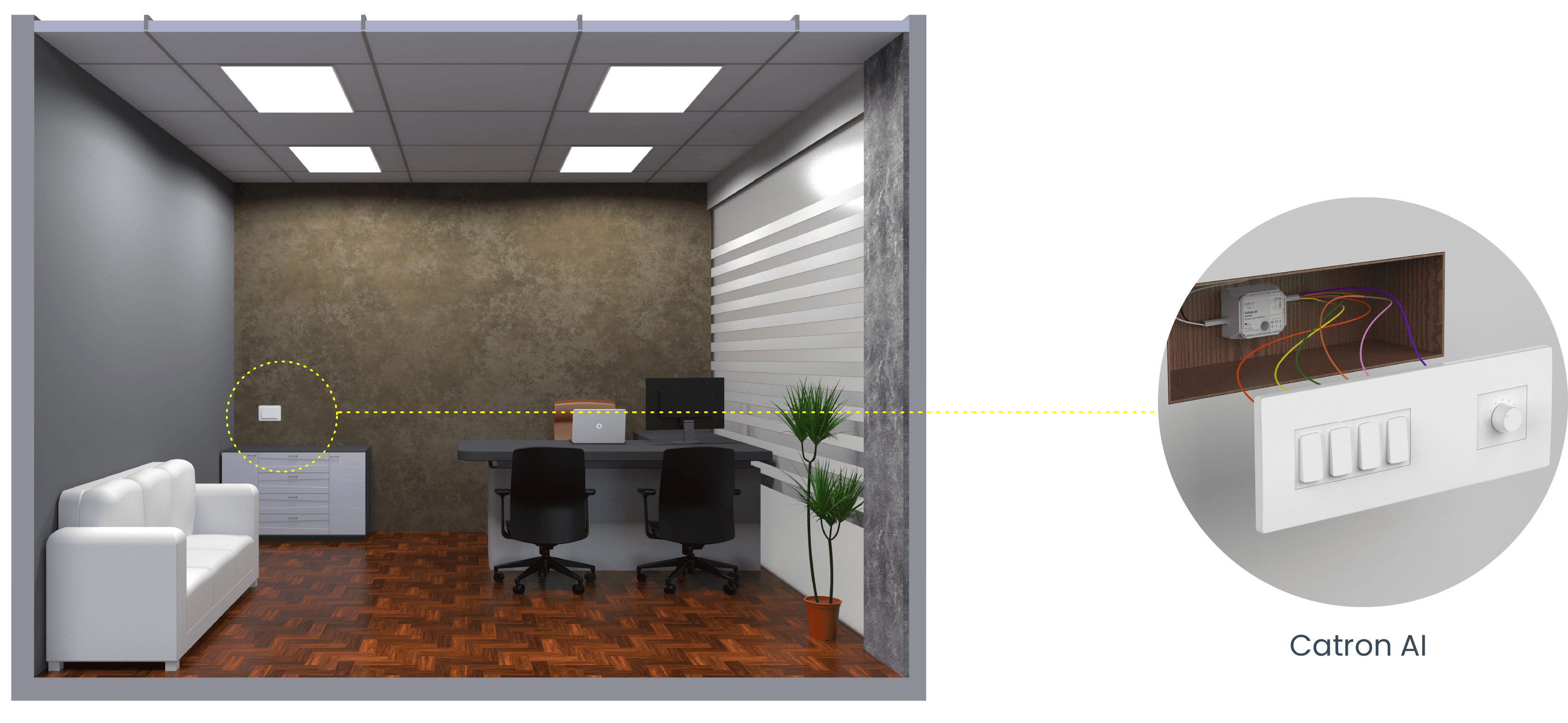 Place the device in any type of flush box 
Power the device from mains and connect the switch inputs from the device to the switches  
Commission the device and configure the actions from the Lumos Controls application  
To help you stay up to date with latest innovation and ideas, we have created several insightful resources which you can read here.
Why choose the switch interface for lighting renovations?
Save time, money and resources
With smart switch interface you can save money, labor and time with no wire and no cost associated.
Convenient and ease of wiring
The compact device easily fits into any flush box. So, with minimal disruption you can make any switch smarter! After the quick installation all you need to do is start the app and manage the lighting network.
You don't have to compromise on style and design preference. With the introduction of switch interface, you can choose a switch with the style and color of your choice. Also, advanced solution providers offer custom configurations to these switches, so you can configure the required actions for each switch.
To Sum it Up!
"Less is more" is so true when it comes to switch interface. You don't have to throw away the older switches and buy new. That is amazing, isn't it?
You can convert conventional switches to smart switches with Catron AI, the wireless switch interface device. This device is a part of Lumos Controls ecosystem which comprises controllers, sensors, switches, modules, drivers, gateways, and analytical dashboards.
Need any help or assistance with your next lighting project? Feel free to connect!