DALI Part 202 New Edition Unfolded: Here are the Changes You Must Know!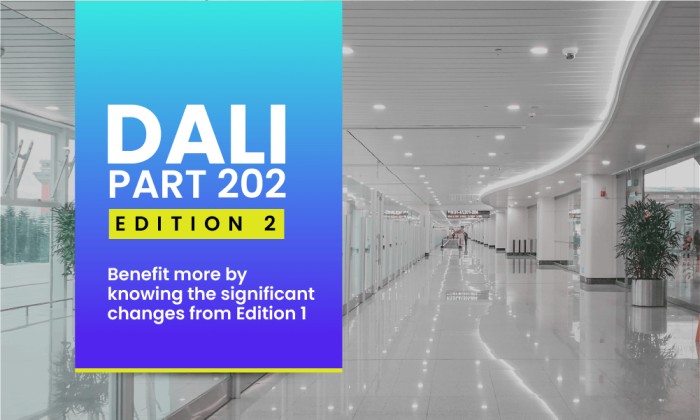 Buildings and commercial spaces are prone to many unprecedented emergencies. Preparing for the worst is, therefore, always a proactive step.
Emergency lighting is one of the effective means of this preparation. Governments worldwide are making emergency lighting compliance mandatory for buildings and commercial spaces. Manual testing and unreliable reports often affect the efficiency and purpose of emergency lighting. The answer lies in Smart Emergency Lighting with DALI Part 202.
Recently, the International Electrotechnical Commission (IEC) published edition 2.0 of Part 202 of IEC 62386 (DALI Part 202).
Let's take a closer look at DALI Part 202 and its new edition in this blog.
DALI Part 202: An Overview
DALI Part 202 specifies the control gear requirements for a self-contained emergency system for AC or DC power supplies. In self-contained emergency lighting, the batteries are placed next to the luminaire, giving each luminaire its own power source. This arrangement helps the luminaire to switch over immediately to the battery placed nearby.
Part 202 specifies four types of self-contained emergency devices.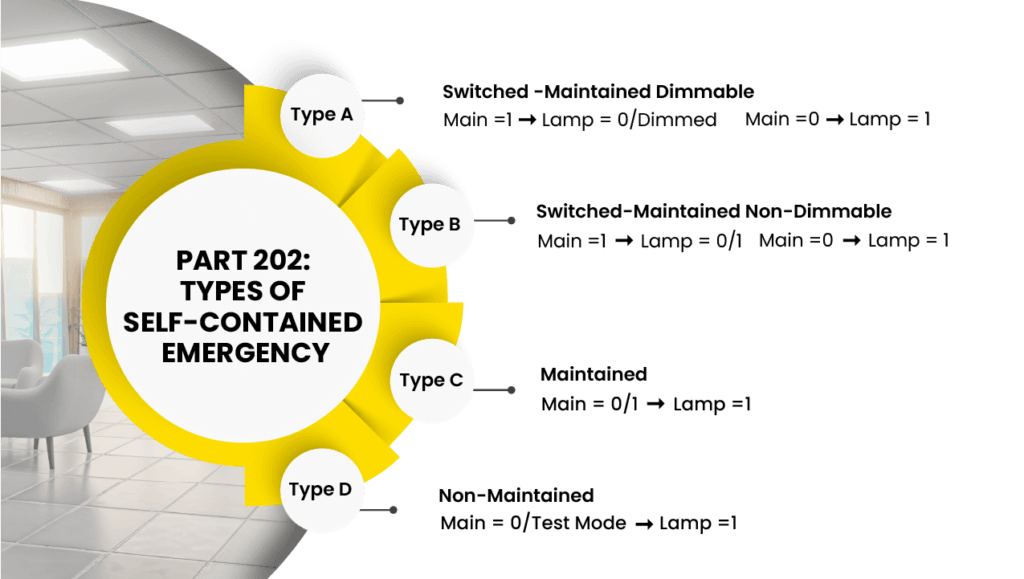 Fig 1. Types of Self-Contained Emergency Devices
DALI Part 202: The Major Changes in Edition 2
The first edition of DALI Part 202 was released in 2009. It is published in parts to facilitate future amendments and revisions. Edition 2 of DALI Part 202 contains some technical revisions.
Automated testing was optional earlier. The latest edition has made it mandatory. This step can increase the prospects of smart emergency lighting systems. The change has made monitoring, managing, and ensuring occupant safety simpler. It gives the user the conveyance of disabling the hardwired switch operation.
A new memory bank is added in the latest edition. It allows the control gear to record more information and give detailed insights to take more proactive steps before, during, and after an emergency situation.
The installation inhibit feature added in the second edition help you to avoid battery wear-out during installation to save project cost.
Deep discharge prevention is another new feature brought by the new edition. A deep discharge causes the battery to swell and slowly destroys its performance. It occurs when the capacity of a cell is exhausted.
Extended-duration tests are now allowed in the latest edition to ensure sufficient battery backup (more than the maximum capacity) during an emergency.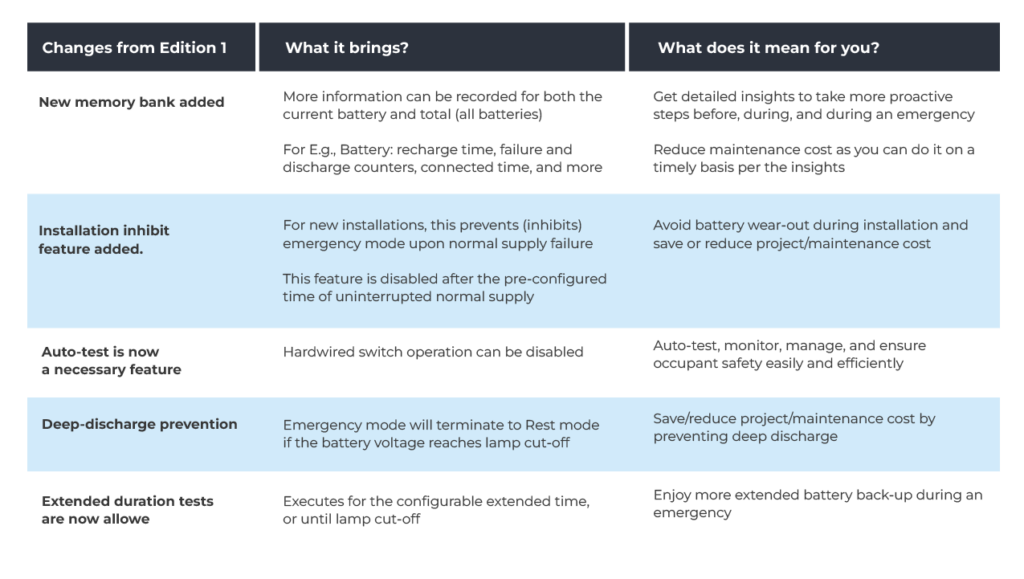 How does Lumos Controls work with DALI Part 202 supported drivers? 
Any driver supporting DALI Part 202 can be connected to the lighting controls offered by Lumos Controls. That is, DALI compliance gives you seamless interoperability. Configuring such a connection allows the initiation of the DALI commands to remotely trigger the tests, such as duration and function tests. This will not only help you cut costs but also significantly reduce the amount of manual intervention needed and increase the efficiency of the test results.
Click here to learn more about emergency lighting and the function and duration test.
Lumos Controls gives you real-time reporting with the emergency dashboard it offers. You can get detailed insights into your DALI emergency lighting system by running these tests on a device level or group level. We allow you to export the report generated after running these tests to PDF and CSV formats.
Our lighting controls can be easily integrated with other building systems through building protocols. It helps you automate and improve energy savings.
In simple words, we make you more compatible to comply with government regulations for emergency lighting.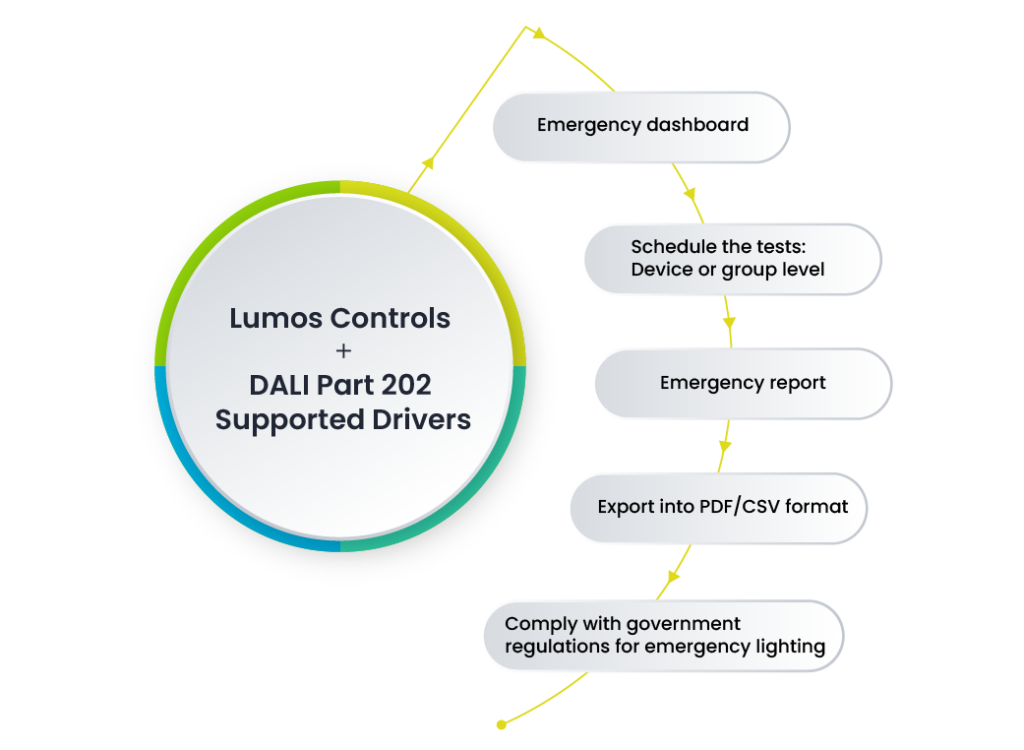 Want to know more about the Lumos Controls Smart Emergency System? Click here.
Final Thoughts
The new edition pours more features into the existing one, taking the future possibilities and scope of DALI Part 202 to the next level.
With all the new features, ensuring Part 202 compliant control gear in your smart emergency lighting system is something you cannot miss. It can offer you seamless interoperability, avoid vendor lock-in, and mitigate the worry about manual testing, unreliable reporting, and various associated costs, including installation, maintenance, and recurring testing costs.
Feel free to contact us if you want more details.