Mastering Lighting Specification Challenges: Key Points to Remember!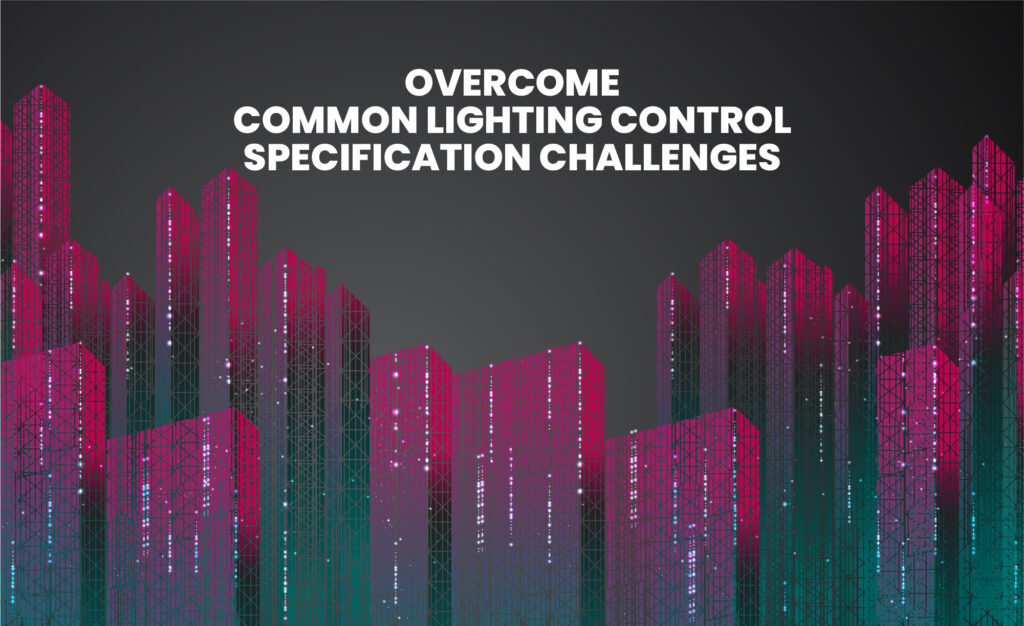 Lighting designers need to juggle multiple responsibilities to ensure a smooth project delivery, find cost-efficient solutions, and support a healthy environment. But there are plenty of hurdles along the way, from non-interoperability with existing systems to dealing with multiple vendors for a single project. Plus, ever-changing codes and regulations make it challenging to stay up-to-date with the latest industry developments. That's where Lumos Control's  simplest lighting controls come in to unlock design potentials.  
Read on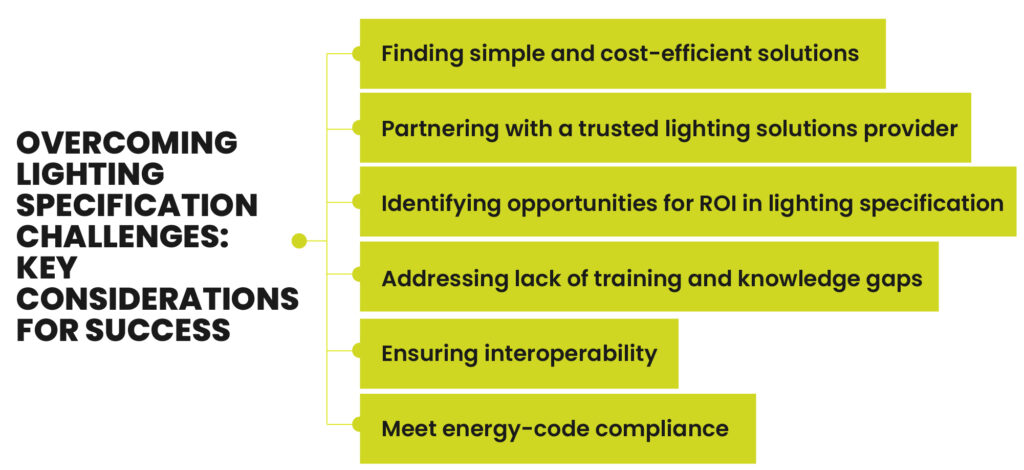 How To Overcome The Specification Challenges? 
Finding Simple and Cost-Efficient Solutions 
Lighting specifiers prefer lighting solutions that are simple and easy to install. A solution that uses wireless technology and intuitive user interfaces, ensures configuration and management of the lighting network can happen in a few clicks!  Additionally, the system can be easily adjusted or modified as needed, providing designers with the flexibility to adapt to changing project requirements. This not only helps to streamline the project delivery process but also ensures that the lighting systems  are both efficient and effective. 
Partnering with a Trusted Lighting Solutions Provider 
From the initial design phase to the final installation and commissioning, designers need comprehensive support to ensure that the project runs smoothly, stays within budget, and is completed on time.
To overcome this:
Choosing a solution provider with experience in a diverse range of applications and a capable team of experts who can guide and assist you. At Lumos Controls, we prioritize our clients' success by offering comprehensive support, including ongoing technical training and assistance from our dedicated team of experts 
Identifying Opportunities for ROI in Lighting Specification 
For any project, maximizing return on investment is undeniable.
ROI is a guarantee, if the solution is capable implementing lighting control strategies and comply with energy code or building regulations.  
Addressing Lack of Training and Knowledge Gaps 
Training and support is crucial for a successful implementation of lighting projects.
As you know, when training makes you more confident. Though we are proud to offer the simplest lighting controls available in the market, we know that it's important to make sure our customers are familiar with the devices in order to save time.  
Ensuring Interoperability of Lighting Systems 
When you're working on a lighting project, you may have multiple systems from different manufacturers that need to be integrated to create a cohesive lighting solution. Without interoperability, these systems may not be able to communicate with each other, leading to compatibility issues, decreased efficiency, and even system failure.
For example: In today's fast-paced world, smart buildings are becoming the norm. However, managing the various components that make up a building can be a daunting task. Fortunately, with Lumos Controls, integrating lighting controls with building management systems (BMS) is easier.  
How to ensure interoperability?  
Look for solutions that adhere to industry standards and protocols  
Work with a team of experts who have experience in integrating different lighting systems and can provide customized solutions 
Conduct through testing and validation before deploying the solution to ensure that it operates efficiently and effectively with your specific lighting systems.  
Navigating Unavailability of Products  
If a particular product or component is not available, it can delay the entire project and result in added costs.
Keeping this in mind, you need to choose a solution provider  who can mitigate the challenges of product unavailability.  For example,  Lumos Controls have partners and suppliers around the globe whom we work closely to ensure that we have a reliable supply chain in place.  
Meet energy-code compliance  
Energy code compliance is an essential aspect of any lighting project, as it ensures that the project meets the energy efficiency standards set by regulatory bodies. Non-compliance can result in penalties and fines, as well as increased energy costs and a negative impact on the environment.
Here are some points to ensure energy code compliance for a lighting project:
Determine which energy code or building regulation is applicable to your project: It could be the International Energy Conservation Code (IECC), Title 24, and ASHRAE. 
Determine the lighting power density (LPD) limit: The energy code will provide a maximum allowable LPD for your project's lighting design. Make sure your design complies with this limit.
Use lighting controls: Incorporate lighting controls such as occupancy sensors, timers, and dimmers to help reduce energy usage and enhance the spatial aesthetics.  
In conclusion,
By choosing a simple, innovative, and cost-efficient lighting control solutions, specifiers can create productive and efficient lighting systems while staying within the budget. With opportunities for ROI, tailored training and support, interoperability, and vendor-agnostic solutions, you gain the flexibility and benefits to unlock the design potential. Through these efforts, we can contribute to a more sustainable and healthy environment . 
Are you interested in discussing how Lumos Controls can help you? Please feel free to connect!