A Beginners Guide to DALI, DALI 2, and D4i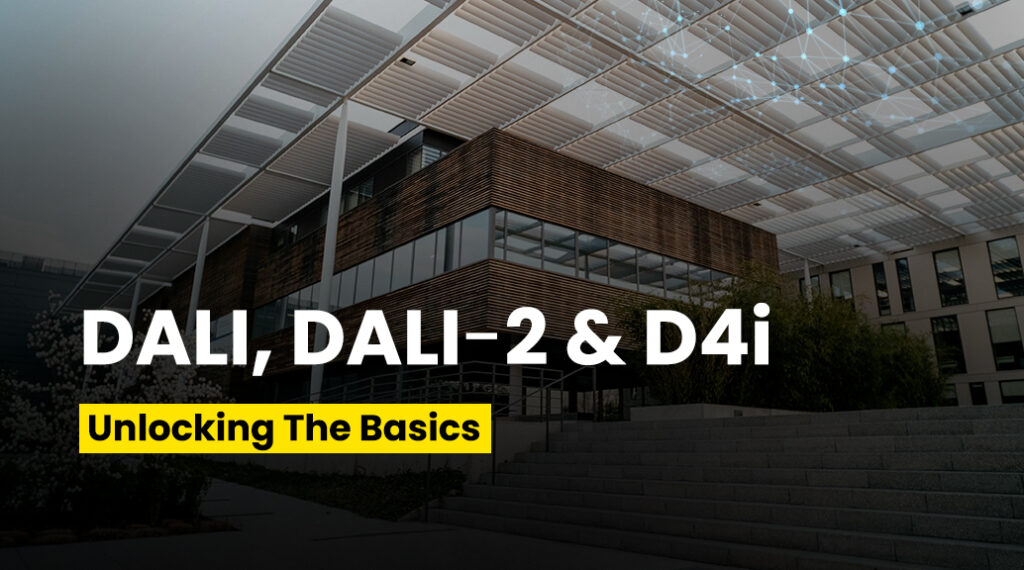 DALI is a highly flexible protocol for small and large projects. It is versatile and cost-effective and enables precise control from a central point. But how does DALI achieve this flexibility?
This blog will discuss the basics of DALI and compare DALI versions and certifications. This will answer your question, how does DALI achieve flexibility?
The content:
What is DiiA?
A brief on DALI
A brief on DALI-2
What is D4i?
Features of D4i
What is DiiA?
Before discussing DALI and its versions, we will begin with DiiA.
DALI Alliance, often known as DiiA, refers to a free, universal alliance of lighting manufacturers. Its primary objective is to create and expand a market for lighting control products that adhere to the Digital Addressable Lighting Interface (DALI) protocol. DiiA is still in charge of trademark management.
What is DALI?
Digital Addressable Lighting Interface (DALI) is a 2-way communications protocol used to control and communicate the components in a lighting system.
In 1990, DALI was created to satisfy consumer demand for digital, and flexible lighting control. The International Electronic Commission (IEC) later defined it in IEC60929. It has developed significantly to enable DALI in the IoT era by embodying D4i (DiiA specs).
To read more about DALI, click here
DALI 1 included only the Luminaire (LEDs + led driver), DALI bus, Bus power supply unit, and input devices. It lacked DALI version-1 trademarks. There were no controls, and the devices that were utilised as controls. Additionally, they were prohibited from using the DALI version-1 trademarks since their bus power supplies did not need to pass obvious tests before use. Therefore, the DALI version-1 trademark cannot be used by any control device or bus power supply that predates DALI-2.
For control gears to have the DALI-1 logo, they should:
Be registered/listed on the official DALI website
Have passed the DALI version 1 tests
What is DALI-2?
DALI 2 expands on DALI version 1 by including control devices, application controllers, more functionality, and—most significantly—a certification scheme. DALI-2 products are subjected to a rigorous testing process to ensure regulatory compliance, and DALI bodies independently confirm the test findings.
Regular Plug fests, which DiiA hosts to enable its member companies to test the compatibility of their products with those from other manufacturers, are a part of the testing process. This certification process improves functionality and interoperability.
After passing the test mentioned above processes and being verified by DiiA, products are permitted to carry the DALI-2 certification programme. This certification process improves interoperability between DALI-2-led drivers and their controllers while guaranteeing standards.
What is D4i?
The extension of the DALI-2 certification program, D4i LED drivers, has specific features connected to power supply requirements and innovative data capabilities required. Devices, such as control gear or control devices, must satisfy the DALI-2 certification requirements to receive the D4i certification. After doing so, it must put into practice the new D4i needs, which include the following:
Parts (250) and (251-253) of DALI, which specify the requirements for the power supply and the data for the control gears, respectively, must be implemented by D4i drivers.
Part 351, which further standardizes the control devices, must be included in D4i control devices.
What are the Advantages of D4i?
D4i provides a variety of additional advantages by standardising and centralising crucial data, including:
Regular maintenance
Tracking assets and keeping an eye on power
One of D4i's primary benefits is that it satisfies each of the five "W's" that can reduce maintenance costs and maintain customers' lights functioning reliably:
Which Luminaire needs to be fixed?
What is the part number for the Luminaire and driver?
Has it already failed, and when does it need to be replaced
In what location is the light?
Why did the Luminaire fail, and are there any additional luminaries that are failing and require maintenance right away?
D4i Certification
DALI Alliance and DiiA do D4i certification for DALI-2 products that adhere to the new criteria. The D4i certification has an optional Part 150 for AUX Power Supply. Without losing the qualification, you are free to choose whether to put it into practice.You may utilise the D4i trademarks if you have D4i accreditation. However, DiiA members are the only ones who can use these trademarks and certifications.
D4i Power Supply Specifications
DALI Part 250
The control gear, such as the LED drivers, can power devices like the sensors on the bus. It is permitted to have an integrated bus power supply under DALI Part 250. However, these components are mandatory with the bus power supply to meet D4i certification requirements. Systems with multiple bus PSUs can enable or disable this PSU.
DALI Part 150
There is an AUX Power Supply in DALI Part 150. This component enables a 24V DC power supply that may be integrated into the control equipment or created separately. It has a 6W maximum wattage. It is appropriate if you have equipment that requires a lot of power, like citywide wireless transceivers.
D4i Data Specifications for Control gear
Data is now stored in specified formats and locations in D4i's DALI memory banks. This data will help to improve asset management and performance monitoring. The data includes:
Data from DALI Part 251
You can determine how to manage your assets by accessing information about your Luminaire from the control gear, such as the ID code, light output, CCT & CRI, and light dispersion.
DALI Part 252
You may receive real-time information on how much power and energy your control equipment uses.
DALI Part 253
Maintenance and Diagnostics Real-time data for lighting and control equipment allows for predictive maintenance. Both run-time data and failure situations are included in this data.
Note: Your Control equipment must adhere to Parts 250 and 251-253 to receive a D4i certification. Part 150 is not required.
D4i Specifications for Control devices Comes with:
DALI Part 351 for control devices placed on luminaires. The four control devices (1-4) listed in this portion can either be powered by the bus or by an external source utilising the AUX power supply.
Multi-master application controller with/without sensor. Externally powered
Multi-master application controller with/without sensor. It's externally powered or bus-powered.
Multi-master application controller optionally with sensor, bus-powered.
Single-master application controller optionally with sensor, bus-powered or externally powered.
Additional scopes for various control devices are defined in this part, including:
the specifications for electricity usage
a system for resolving disputes between different application controllers
a multi-master device description for memory banks
Remember: To get a D4i certification on your control device, implement part 351.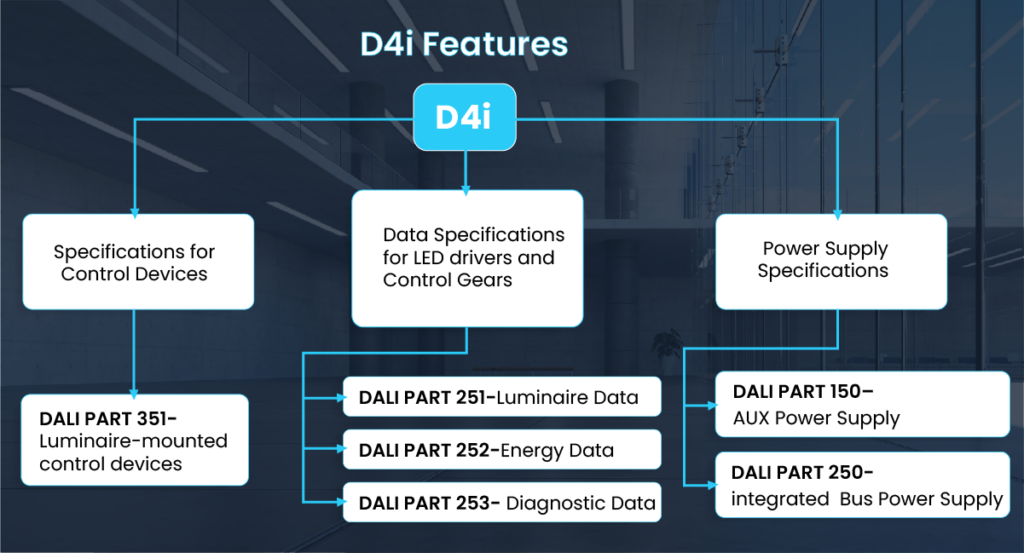 To Sum it Up
The future of commercial, retail, and residential environments is connected, automated, and smart lighting. DALI is the most reliable and cutting-edge control technology that can ensure uninterrupted automation. It is undoubtedly the most flexible and cost-effective solution for any lighting project. Having DALI devices operated and maintained by professionals in the field can significantly improve how simple everyday operations are and save overhead costs. If you are interested in DALI products, check out our DALI-compliant devices.
Click here to book an appointment.